If the letters R-T-I make you anxious or give you sweaty palms, you are probably not alone. RTI for kindergarten and first grade students honestly includes a handful of key target skills. In this post, I'll share those key skills and how your intervention plan can turn them into mastered skills. After all, no teacher wants to see his or her students showing these frustration signs.
Target Skills for Emergent and Beginning Readers
For our readers in the early grades (who are likely emergent at this point), there are several core skills to master. In order to progress to the beginning reader stage, students need to have alphabet knowledge most of all. This includes the following:
Letter Name Recognition
Ability to Distinguish Between Upper and Lowercase letters
Letter Sounds
Rhyming Ability
Concept of Word
Sightword Recognition, and
Word Building with Short Vowels
Identify Need Using Assessments
To begin, you need to know where to start, and that's with assessments. Your goal is to learn…what your students know, what's in progress, and what's unknown to them. You may be required to use an assessment from your division or maybe you've created one of your own. Parts of it may not be useful at this time of the year, but you may be able to use pieces of it as a probe once your students learn the skills or as part of your progress monitoring.
THIS ASSESSMENT includes all but the sightword recognition part, but I am going to direct you to a great website that has all you need for sightwords. The School Bell has been around a long time (at least 10 years I think). [Here] is the link to the [Dolch Kit] which presents the Dolch words from highest frequency of use to lowest, activities and games for the word lists, assessment materials, and more.
Once you've screened your students, you'll want to rank the results and identify who is lagging with each of the skills and target them. By ranking, you'll be able to form your groups. You'll want to focus the greatest amount of your time on your bottom quartile kids. If you have assistants who work with you regularly or parent volunteers who are able to tutor, charge them with the task of addressing these specific needs with your struggling student(s). If you set it up in a gamelike format, your little people will enjoy this special attention which will also help you move them along the reading continuum. Of course, you too will want to focus on these skills in your guided reading time too.
RTI Lessons
With your targeted students, you'll want to spend about twenty minutes (in 5 minute increments) to address letter names and sounds, rhyming, Concept of Word, sightwords, and writing during their guided reading time daily (tier 1). With quick moving lessons, you will be surprised how much you can get done in these short snippets of time. Activities you use could included the following:
Letter Names/Sounds-Magnetic letters, Name puzzles, Matching letter and picture with beginning sound, sorting fonts, matching upper and lowercase letters, I Spy
Rhyme-Sorting pictures, Matching pictures that rhyme, poems, I Have. Who has?, Rhyme bingo, and word family work.
Concept of Word (COW)-nursery rhymes and simple four line poems, cutting apart sentences and putting them back together, highlighting the space between words, placing touch points below words. and lots of modeling.
Writing-draw and label, copying tasks, name writing, and framed sentences
Sightwords-use the COW time to focus on sightwords in context.
Check Out These Print and Go RTI Resources
If you are in need of go-to materials, I have developed these sets to build an RTI kit. So far, I've completed the Letter Names and Sounds Section, Rhyme Time, and the Concept of Word Bundle. Here's a bit more information…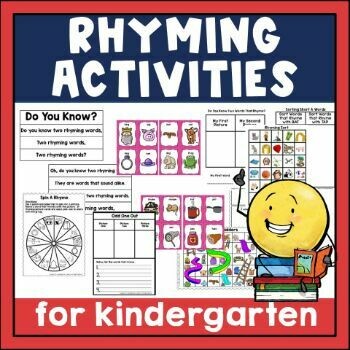 Rhyming is a key skill we work on to build phonemic awareness. Kids who can hear rhyme and create rhyming word sets understand onset and rhyme. These skills are best built through word play and with games. You'll find picture cards to use in a variety of games and sorting activities. Click the picture to learn more.
This set includes 78 poetry sets includes teaching posters, the poems with and without touchpoints and picture support, the poems in book form for students to practice at home, and single page sheets. The COW poems can be used to work on sightwords, beginning sounds, rhyme, tracking, word families, and so much more. With all of these sets, you have plenty for students to use with parent volunteers or tutors too.
Scheduling RTI for Emergent Readers
RTI is a team approach including the regular classroom teacher, paraprofessionals, reading specialists and special educators. The classroom teacher is responsible for tier 1 instruction (your core instruction). This includes both whole and small group lessons within the classroom. Tier 2 instruction is typically provided by an interventionist in a "push-in" or "pull-out" format. For those still not progressing, tier 3 instruction is offered in a very small group of 1-3 students per teacher.
Tier 3 instruction is best when it's provided by a certified reading specialist, but if this is not available, the classroom teacher may be asked to provide tutoring time. Schedules are best determined by the individual schools where the "big picture" includes available personnel, the daily routine, and numbers of students needing assistance. [This powerpoint] is very well done and explains the scheduling process well. It is so important that there is team planning. Those not needing tier 2 or tier 3 instruction should be involved in enrichment activities during the enrichment/remediation block.
Monitoring Progress
Once you've got your routine established, the final step is to make sure you monitor your students' progress. With tier 2 students, you will need to assess with an assessment every other week and with tier 3 students, you'll assess weekly. Once mastery is demonstrated, regroup or move to the next lagging skill.
For more information…
There are many great blog posts on this topic out, so if you're looking for information for older readers or more on beginners, you might check out the following blogs and posts.
If you have a successful RTI program in place, it would be wonderful to hear more from you. Please take a moment and share your experiences.
Free Download: