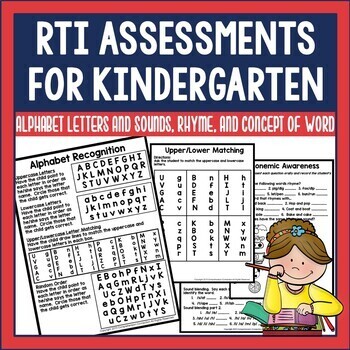 RTI Assessments for Kindergarten
SKU 00307
Product Details
Monitoring progress in kindergarten can be challenging. This kindergarten reading assessment is just what you need to KNOW what your students know and what to work on next. You can give all or part of this tool and use it to make the best decisions for your small group lessons.
Skills assessed with this tool include:
Letter Recognition and Sounds
Phonemic Awareness
Rhyme
Beginning Sounds
Ending Sounds
Sound Blending
Sound Segmentation
Nonsense Word Recognition (short vowels)
Concept of Word
Recording and scoring sheets are included as well as materials for students to look at as the assessment is given. You might laminate these pages and keep them in a binder for your testing sessions.
For a paperless assessment and beginning of the year screening, CLICK HERE.
Save this product for later