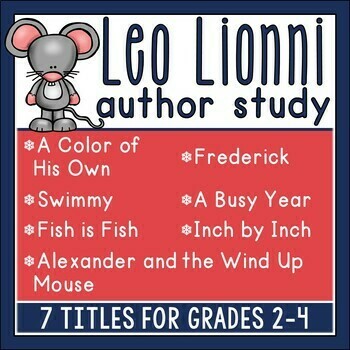 Leo Lionni Author Study
SKU 00040
Product Details
Leo Lionni is a wonderful children's author for second and third graders, and it's great to have grab and go materials. This bundle includes before/during/after activities for each of the titles below to make an author study easy to implement.
TITLES INCLUDED:
Frederick
Swimmy
Fish is Fish
A Color of His Own
Inch by Inch
A Busy Year, and
Alexander and the Wind-Up Mouse
(7 book units and about 118 pages).
The units are set up in a before/during/after format for the books. It is intended to be used with guided reading groups, but also works well with partners, mentor text lessons, or literature circles.
SKILLS ADDRESSED IN THIS BUNDLE:
Swimmy
Prereading activities to build schema and background
Vocabulary
Making Predictions
Making Connections
Sequencing
Character Traits
Summarizing
Questioning
Visualizing
Response to Reading
Alexander and the Wind-up Mouse
I Know, I See, I Wonder (prereading)
Alphaboxes
Vocabulary page and word cards for modeling
Story Elements Anchor Chart
Story Elements Organizer
Concept Sort
Questioning Page
Character Analysis
Making Inferences Anchor Chart
My Inference (favorite scene)
Comparing Leo Lionni's Books
Writing in Response to Reading
Class Book Cover
Writing page for Alexander's New Friend
What's Close to Alexander's Heart
Fish is Fish
Prereading-Comparing Fish and Frogs
Vocabulary
Making Predicting
Sequencing
Questioning
Making Comparisons
Cause and Effect-cut/paste events t chart
Summarizing, and
Responding to Reading Writing Prompts
Frederick
Prereading-All about Mice
Vocabulary Foldable
Making Connections
Author's Purpose, Point of View, and Genres
Character Traits-finding text evidence
Sequencing Events Flow Chart
Summarizing after reading
Writing promps in Response to Reading
A Color of His Own
Schema building (Give one, Get on about Showing Your Colors)
Vocabulary
Point of View (2 pages)
Character traits
Making connections
Cause/effect
Visualizing
Sequencing
Questioning task cards and recording form for Scoot
Writing in response to the reading
A Busy Year
schema building about trees (alphaboxes)
tier 2 vocabulary introduction and practice
sequencing (anchor chart and project) -2 pages
story elements
questioning page
character traits
making connections
visualizing
research report about trees
and writing in response to reading (____ loves the planet)
Inch by Inch
Schema building (Give one, Get on about Showing Your Colors)
Vocabulary
Making comparisons
Beginning, middle, end
Writing prompt about favorite part
Writing prompt about measuring
Save this product for later