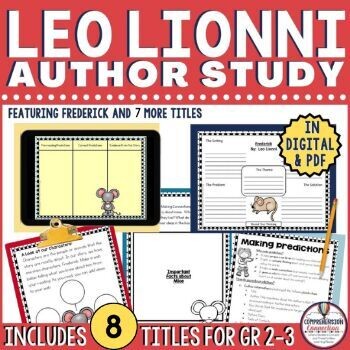 Leo Lionni Author Study
SKU 00040
Product Details
Leo Lionni is a wonderful children's author for second and third graders. These grab and go materials make celebrating his books easy. This bundle includes before/during/after activities for each of the titles below. The bundle is comprehension focused and engaging. There is also an emphasis on written responses including a class book/prompt for each.
TITLES INCLUDED IN THE LEO LIONNI BUNDLE:
Frederick
Swimmy
Fish is Fish
A Color of His Own
Inch by Inch
A Busy Year, and
Alexander and the Wind-Up Mouse
(7 book units and about approximately 280 pages in PDF and for Google Slides TM).
HOW TO USE THE LEO LIONNI AUTHOR STUDY:
The units are set up in a before/during/after format for the books. It is intended to be used with mentor text lessons, book clubs, or guided reading groups, but also works well with partners too.
SKILLS ADDRESSED IN EACH UNIT:
SWIMMY-
schema building (Alphaboxes about ocean animals)
vocabulary organizer and word cards
making predictions with I Bet strategy
author's purpose
making comparisons organizer
writing in response to the reading
sequencing events
story elements
visualizing (Sketch to Stretch)
summarizing
question task cards and response form
BME retelling
class book (Swimmy's Swimming Adventures
️I Know, I See, I Wonder (prereading)
️Alphaboxes
️Vocabulary page and word cards for modeling
️Story Elements Anchor Chart
️Story Elements Organizer
️Concept Sort
️Questioning Page
️Character Analysis
️Making Inferences Anchor Chart
️My Inference (favorite scene)
Comparing Leo Lionni's Books
️Writing in Response to Reading
️Class Book Cover
️Writing page for Alexander's New Friend
️What's Close to Alexander's Heart
Fish is Fish
Schema builder about fish and frogs
Vocabulary introduction and Word Cards
BME Organizer
All About The Main Character
Story Elements
Cause and Effect Sorting
Making Connections
Discussion Task Cards
Answer Form
Favorite Scene
Story Retelling
Story Lessons | Main Idea/Details
Writing Prompt
Frederick
prereading schema builder about mice
vocabulary
making predictions
making connections
character traits
sequencing
summarizing
writing prompts
plot development (narrative elements),
and reading response (class book).
A Color of His Own
schema building (Give one, Get on about Showing Your Colors)
vocabulary organizer and word cards
point of view (2 pages)
character traits
making connections
cause/effect
visualizing
sequencing
BME retelling
guided reading column notes
questioning task cards and recording form for Scoot
writing in response to the reading
A Busy Year
schema building about trees (alphaboxes)
tier 2 vocabulary introduction and practice
sequencing (anchor chart and project) -2 pages
story elements
questioning page
character traits
making connections
visualizing
research report about trees
and writing in response to reading (____ loves the planet)
Inch by Inch
schema building (abc brainstorm about measurement)
vocabulary organizer and word cards
making comparisons across texts
beginning, middle, end
the important thing about inchworms
scene description
character traits
story elements
making connections
My Life as a Worm writing prompt pages and cover for a class book
Measurement Writing Prompt
Favorite Scene Writing
OTHER LEO LIONNI RESOURCES YOU MIGHT LIKE:
This unit can be purchased individually, but is also included in my Leo Lionni Author Study. Other units included in the author study are:
WHAT OTHER TEACHERS HAVE THOUGHT OF THIS UNIT:
⭐️⭐️⭐️⭐️⭐️ Heather O.says, "So many resources and well worth the money. Will be used during an author study week. Thank you for your hard work.
⭐️⭐️⭐️⭐️⭐️ Rebecca C. says, "Great resource to use with our Leo Lionni Author Study for first grade! We were able to choose the parts we needed and it worked great!"
⭐️⭐️⭐️⭐️⭐️ Holly G. says, "I am really looking forward to using this bundle with my firsties. The activities will be highly motivating to complete; thought provoking, fun, and educational activities on Leo Lionni."
⭐️⭐️⭐️⭐️⭐️ Brittany F. says, "This author study worked perfectly for our week long study of Leo Lionni!"
Copyright © Comprehension Connection.
Permission to copy for single classroom use only.
Please purchase additional licenses if you intend to share this product.
Save this product for later