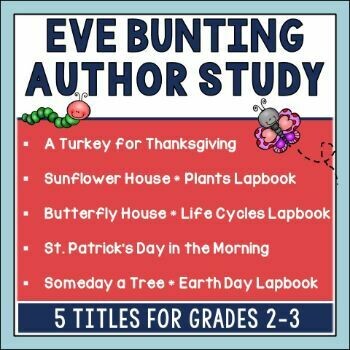 Eve Bunting Book Bundle
SKU 00038
Product Details
Bundle Description
Eve Bunting's work is wonderful, and she's a great choice for spring. Save yourself prep time and have materials ready to go! This bundle includes resources for Butterfly House, Someday a Tree, Sunflower House, St. Patrick's Day in the Morning, and a classic for the fall, A Turkey for Thanksgiving. Included with your comprehension materials are lapbooks for science (Plants, Life Cycles, and Earth Day) as these titles tie in well with these three science topics.
Product Contents
This unit now includes before, during, and after activities for these FIVE titles. Included in the units are:
1. Schema builders
2. Vocabulary
3. Comprehension options for
-cause/effect
-predictions
-making connections
-making comparisons across texts
-summarizing
-questioning
-finding text evidence
-making inferences
4. Writing in response to reading
5. Class book options
6. Lapbooks for the following content:
-Earth Day
-Plants
-Life Cycles
Total pages: 157 pages
This unit includes ~150 total pages planned in a sequential order to guide your readers toward deeper thinking. The materials are intended to provide students with the modeling and thinking strategies they need to fully comprehend and use their story knowledge. The bundle is aligned with the Common Core standards. .
For a detailed look at this unit, a preview is provided with many pages visible.
© 2019 Comprehension Connection by Carla Fedeler All rights reserved.
Save this product for later