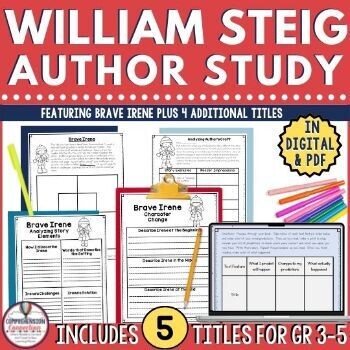 William Steig Author Study
SKU 00277
Product Details
This William Steig bundle for five of his books including Brave Irene, Doctor DeSoto, Sylvester and the Magic Pebble, The Amazing Bone, and Amos & Boris includes before, during, and after reading materials for close reading of each book. Use them for mentor text lessons, for literature circles, or for guided reading. After your class has enjoyed the five titles, use the author study lapbook to learn about his life and contributions.
Skills included in this bundle are:
Amos & Boris:
Give One Get One Whole Group Schema Builder
Vocabulary Words Organizer
Character Traits-finding text evidence for Amos and Boris
Cause and Effect Story Retelling
Visualizing Story Events
Story Elements
Question Task Cards and Response form for group discussion or assessment
Unlikely Friends Class Book
Brave Irene:
Making predictions
Vocabulary Building
Analyzing story elements
Author's craft
Analyzing writing features
Question Task Cards and Response Sheet
Related writing prompt to plan, compose, revise and publish a descriptive story.
Doctor DeSoto:
Give One, Get One Schema builder about dental health
Story Vocabulary
Beginning, Middle, and End (inferences and predictions)
Questioning Task Cards and Response Page
Analyzing the Text Events
Visualizing the Events
Planning a Story Sequel
Rough Draft Printables and Writer's Checklist
Final Draft Printables for Publishing
Sylvest and the Magic Pebble:
Schema building about magical moments. (That's Me!)
Vocabulary organizer and cards
Story elements flapbook
Cause and Effect
Visualizing using text details
Question task cards and response page
Summarizing the main idea
Character Traits anchor chart and project
Class Book-My Magical Moment
The Amazing Bone
Schema Builder
Vocabulary Organizer and word cards
Story Elements Flap Book
Drawing Conclusions Practice
Studying Author's Craft Anchor Chart and Column Notes
Analyzing Character Change Project
Question Task Cards
Making Comparisons across Story Elements
Writing in Response to Reading (True Story of Little Red Riding Hood)
Author Study Lapbook:
1. Title (front)
2. 3 Favorite books (front)
3. Timeline of his life (inside left)
4. The Author and Me (how William Steig and I show creativity) (inside middle)
5. Featuring William Steig's books (4 titles) (inside middle)
6. Words that Describe His Work (inside right)
7. William Steig's Lifie (inside right)
8. What I Admire about William Steig (back)
9. William Steig's Honors (back)
For a detailed look at this unit, a preview is provided with most pages visible.
Thanks for shopping at Comprehension Connection!
Save this product for later