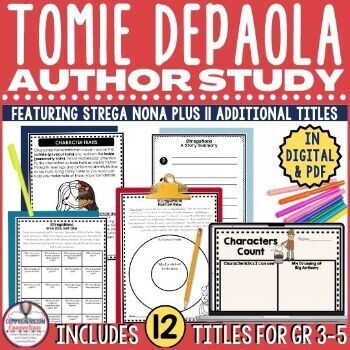 Tomie dePaola Author Study
SKU 00149
Product Details
I am a huge Tomie dePaola fan, and I love using Tomie dePaola's books in mentor text lessons for both reading and writing. This DIGITAL AND PDF author study bundle includes 12 of Tomie dePaola's titles (five Strega Nona titles, the three Bill and Pete titles, the two Jamie O'Rourke books, The Art Lesson, and Little Grunt and the Big Egg).
HOW IS THE TOMIE DEPAOLA AUTHOR STUDY IS ORGANIZED?
All 12 units are focused on comprehension strategies and writing. This collection of comprehension activities will help your kids enjoy all of the books and truly see what a storytelling master Tomie dePaola is. You can use the activities in guided reading, as mentor text lessons, with partners, or in stations. Your planning will include rich lessons without tons of time creating the activities for years to come.
WHAT READING SKILLS ARE TAUGHT WITH THIS TOMIE DEPAOLA AUTHOR STUDY?
Schema Builders for Each Book
Vocabulary for Each Book along with Vocab Cards for Introduction
Story Elements and Retelling
Characterization
Cause and Effect
Plot Development
Comparing Characters
Making Connections
Sequencing Events
Point of View
Summarizing
Visualizing
Making Predictions
Making Comparisons
Questioning Task Cards for many of the books
Class Books for EACH title
and much much more!
(20+ pages per title in PDF AND 20+ pages on Google Slides TM per title...approximately 480 pages of material)
INDIVIDUAL TOMIE DEPAOLA RESOURCES YOU MIGHT LIKE:
Tomie DePaola is a favorite author of many elementary teachers. If you would like to look at the individual titles, they are linked below:
Please look at the preview for details on how each of the units works and all of your options. If you have questions, do not hesitate to send me a note through the Q/A.
HERE'S WHAT OTHER CUSTOMERS THOUGHT ABOUT THESE RESOURCES:
⭐️⭐️⭐️⭐️⭐️Staci H. says, "So many activities!"
⭐️⭐️⭐️⭐️⭐️ Kimberly L. says, "Such a thorough resource for these wonderful books! Love all the different activities! Thanks!"
⭐️⭐️⭐️⭐️⭐️ Sunny Days in Second says, "Great resource to go along with my Tomie dePoala unit."
⭐️⭐️⭐️⭐️⭐️ Kirsten E. says, "Great resource to go with the book. Thank you. Students enjoyed the activities."
⭐️⭐️⭐️⭐️⭐️ The Tiger Teacher says, "I used this during a Literacy Camp this summer. The kids loved it and it was so easy to use!"
You may also like…
→ Patricia Polacco Author Study in Digital and PDF
→ Cynthia Rylant Author Study Bundle in PDF and Digital Formats
Copyright © Comprehension Connection.
Permission to copy for single classroom use only.
Please purchase additional licenses if you intend to share this product.
Save this product for later