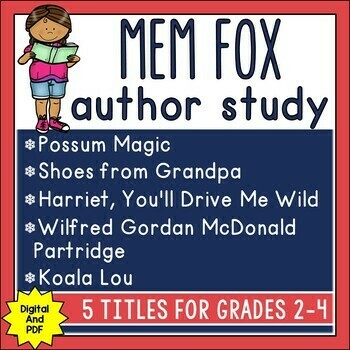 Mem Fox Author Study
SKU 00039
Product Details
This Mem Fox Author Study is just what you need to celebrate this famous Aussie author. It has all the materials you need to go with Wilfred Gordan McDonald Partridge, Koala Lou, Harriet, You Drive Me Wild, Possum Magic, and Shoes from Grandpa in both Digital and PDF formats. These wonderful books celebrate life in Australia and family relationships. This bundle includes guided reading materials that you can use with the books, writing options, and more
Product Contents
The focus of these units is on comprehension skills and strategies aligned with the Common Core standards. Below is a list of skills included.
Skills included are:
◾️ schema building for each story theme
◾️ tier 2 vocabulary activities
◾️ making connections
◾️ summarizing
◾️ questioning
◾️ making comparisons
◾️ sequencing
◾️ character traits
◾️ point of view
◾️ cause and effect
◾️ story elements
◾️ making predictions
◾️ plot
◾️ and writing in response to reading
Each unit includes approximately 35 pages or 175 total pages aimed to guide your readers toward deeper thinking. Skills are modeled with anchor charts and applied with story information.
Save this product for later