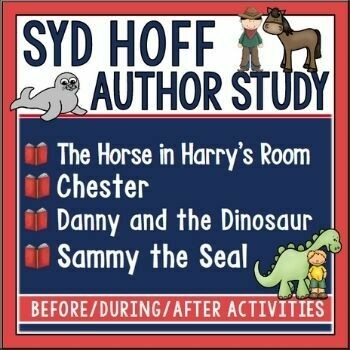 Syd Hoff Author Study
SKU 00135
Product Details
This Syd Hoff Author Study includes materials for *4* titles to SAVE YOU $$ and TIME! Syd Hoff's books are perfect for the middle of first grade to early second. The language is controlled to be decodable and reinforce sight vocabulary. This bundle is designed in a before/during/after format for use as mentor texts, for guided reading, or literature circles keeping the focus on comprehension.
WHAT TITLES ARE INCLUDED?
Danny and the Dinosaur
Sammy the Seal
Chester, and
The Horse in Harry's Room
WHAT SKILLS ARE ADDRESSED?
Schema Builders
Vocabulary Materials
Author's Purpose
Making Predictions
Story Elements
Character Traits
Summarizing/Retelling
Making Connections
Writing in Response to Reading
The bundle includes ~80 pages of material.
For a detailed look at this unit, a preview is provided with most pages visible.
© 2019 Comprehension Connection by Carla Fedeler All rights reserved.
Save this product for later