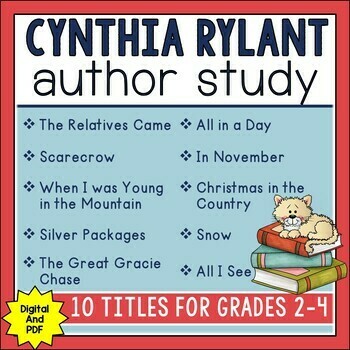 Cynthia Rylant Author Study
SKU 00016
Product Details
This Cynthia Rylant Author Study includes book units for *10* of her books PLUS a new Author Study Lapbook to learn about Cynthia Rylant. There are 400 pages (PDF and Google Slides TM) of materials for the books, The Relatives Came, When I was Young in the Mountain, In November, Scarecrow, All I See, The Great Gracie Chase, Christmas in the Country, Silver Packages, All in a Day and Snow. The units work well for guided reading, whole group skill modeling, for partner work, tutoring, or for Teaching Assistants to use with small groups as well as Six Traits Writing.
Each individual book unit is written in before/during/after format. The focus with each is on reading comprehension and writing. Higher level thinking and written responses challenge students to analyze the texts and writing style.
The books are written at a 3rd to 4th grade level on average, but the units would work well for grades 2-5. If you have questions, please ask. One important thing for buyers to know is that this is a bundle of individual books listed in my store. The materials are the same as the individual titles, but are discounted with the bundle.
When to Use the Bundle:
★Scarecrow
★In November
★All I See
★All in a Day
★Silver Packages
★Christmas in the Country
★Snow
★The Relatives Came
★When I was Young in the Mountains
★The Great Gracie Chase
Ronda says, "Cynthia Rylant is one of my favorite authors! Your resource helps bring her wonderful writing into my classroom."
Andrea says, "Excellent materials, more than I will ever be able to use. All you want about Cynthia Rylant."
Emily says, "Wow! What a comprehensive bundle! If you're doing an author study on Cynthia Rylant, this is the product for you. She is one of my favorite authors. Thank you so much!"
Shannon says, "Wonderful resource for my Title I classroom! The units are full of materials/resources to go along with these Cynthia Rylant books. I cannot wait to use these activities with my students. Thank you for such a wonderful product."
Thank you for visiting, and let me know if you have any questions.
Save this product for later