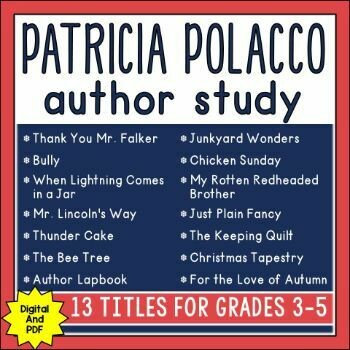 Patricia Polacco Author Study with 13 Units (PDF only)
SKU 00015
Engaging, Comprehension Focused, and Meaningful Activities that save teachers time.
Product Details
This Patricia Polacco Author Study includes materials for *13* titles and an author research lapbook for a total of 260+ pages of materials IN PDF ONLY. Patricia Polacco is a favorite for teachers and students. Her books are filled with tier 2 vocabulary and so many relevant social themes. Using Polacco's books in guided reading or as a mentor text for writing helps your students far beyond reading and writing. Her books help children for life!
HOW THE BUNDLE IS ORGANIZED

The bundle includes a PDF of each book companion. The activities are organized in a before, during, after format for deeper understanding and writing extension. For each title, there are about 20 pages of content. You'll have a schema builder, vocabulary work, modeling and practice materials for several comprehension skill/ strategy work, and themed writing assignments..
PRODUCT CONTENTS

The bundle is for **13** of Polacco's books in PDF for the following titles:

✱Chicken Sunday

✱Bully

✱My Rotten Redheaded Older Brother

✱Thunder Cake

✱The Keeping Quilt

✱The Bee Tree

✱Junkyard Wonders

✱Just Plain Fancy

✱When Lightning Comes in a Jar

✱Christmas Tapestry

✱For the Love of Autumn

✱Mr. Lincoln's Way

✱Patricia Polacco Lapbook

✱Thank You Mr. Falker

Save this product for later