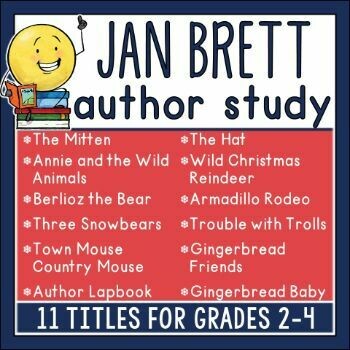 Jan Brett Author Study
SKU 00105
Product Details
Are you a Jan Brett fan but lack materials to go with her books? This bundle include materials for *11* of her books for many comprehension skills. Celebrate the holidays, winter, or any time of year with before/during/after comprehension focused materials. There are 413 pages in B/W PDF and Full-Color Digital for Google Slides TM. Use the activities in guided reading, stations, for modeling on your Smartboard, or on one-to-one devices. Model with color and have students complete the printable....so many options for Jan Brett learning fun.
✱ tier 2 vocabulary activities
✱ questioning task cards and response forms
✱ making comparisons across texts
✱ cause and effect anchor chart and activities
✱ plot (Problem and Solution)
✱ many opportunities for writing in response to reading.
This unit includes about
30-35 pages per book (413 total pages or $.10 per page)
planned in a before/during/after order to guide your readers toward deeper thinking. The bundle is aligned with the Common Core standards. For an indepth look at this unit, you can read all the details of each unit in my blog post,
Who Loves Jan Brett? Me!
.
Here are a few customer reviews:
"I fell in love with Jan Brett's books two years ago. When December rolled around, I knew I would conduct an author's study about Jan Brett. With being a teacher, I was strapped for time. I looked at several pre-made author's study, but found them only covering one or two books. I wanted to immerse my students into several of her books. This 413 page packet has lesson plans, activities, and printable writing activities for ten books. It was well worth the money. Thank for you all the hard work creating these activities. I am elated to use in next week."
"Love this! Jan Brett is my favorite author and it is so nice to find cc aligned stuff! Please continue on with the rest of her books and make a volume 2! :-)"
"Amazing bundle! We have so many meetings at this time of year and these activities have been perfect to leave for my sub. The students get practice in a variety of skills and my sub loves it because the books are so engaging to students! Thanks!"
For a detailed look at this unit, a preview is provided with most pages visible.
© 2019 Comprehension Connection by Carla Fedeler All rights reserved.

Save this product for later