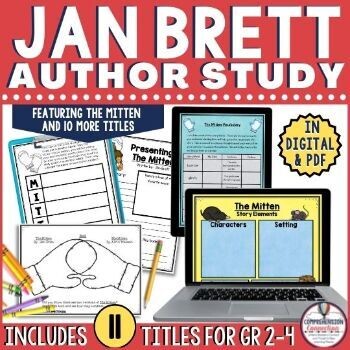 Jan Brett Author Study
SKU 00105
Product Details
Jan Brett is a favorite author for the primary and middle grades, and this comprehensive Jan Brett author study with her most popular titles will make planning a breeze! Each book companion in this set is perfect for the winter months whether you're teaching in person, hybrid, or remotely. Your students will be engaged in rich discussion on each of the books' themes and enjoy Jan Brett's amazing writing style. They will learn all of Jan Brett's trademarks and quickly recognize her books for independent reading.
WHAT'S INCLUDED IN THIS JAN BRETT AUTHOR STUDY?
You'll receive before, during, and after reading activities for The Hat, The Mitten, Armadillo Rodeo, Berlioz the Bear, Trouble with Trolls, Annie and the Wild Animals, Wild Christmas Reindeer, Gingerbread Baby and Gingerbread Friends, Town Mouse and Country Mouse, The Three Snowbears, and a culminating Jan Brett Lapbok.
WHAT SKILLS ARE INCLUDED IN THIS JAN BRETT AUTHOR STUDY?
schema building on the book's theme
tier 2 vocabulary activities and word cards
making connections
summarizing
questioning task cards and response forms
making comparisons across texts
cause and effect anchor chart and activities
story elements
making predictions
plot (Problem and Solution)
many opportunities for writing in response to reading.
research opportunities
class book options
DETAILS ABOUT THE AUTHOR STUDY:
The bundle is aligned with the Common Core standards. For an in-depth look at this unit, you can read all the details of each unit in my blog post, Who Loves Jan Brett? Me! Each unit is planned in a before, during, and after reading layout, and you get about 20 pages per unit (pdf) and about 20 pages in color for Google Slides TM.
WHAT OTHER TEACHERS HAVE TO SAY:
⭐️⭐️⭐️⭐️⭐️Ashley P says, "I fell in love with Jan Brett's books two years ago. When December rolled around, I knew I would conduct an author's study about Jan Brett. With being a teacher, I was strapped for time. I looked at several pre-made author's study, but found them only covering one or two books. I wanted to immerse my students into several of her books. This 413 page packet has lesson plans, activities, and printable writing activities for ten books. It was well worth the money. Thank for you all the hard work creating these activities. I am elated to use in next week."
⭐️⭐️⭐️⭐️⭐️ Heather S says, "Love this! Jan Brett is my favorite author and it is so nice to find cc aligned stuff! Please continue on with the rest of her books and make a volume 2! :-)"
⭐️⭐️⭐️⭐️⭐️ Bonnie T says, "Amazing bundle! We have so many meetings at this time of year and these activities have been perfect to leave for my sub. The students get practice in a variety of skills and my sub loves it because the books are so engaging to students! Thanks!"
RESOURCE IN THIS BUNDLE (IN CASE YOU NEED SPECIFIC TITLES)
Copyright © Comprehension Connection
All rights reserved by author.
Permission to copy for single classroom use only.
Not for public display.
Please purchase additional licenses if you intend to share this product.
Save this product for later