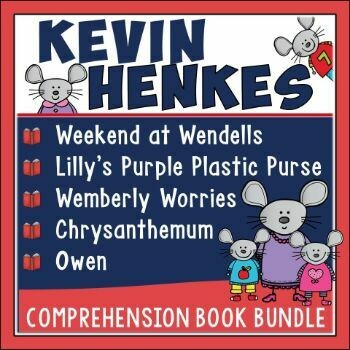 Kevin Henkes Author Study
SKU 00153
Product Details
This unit includes before, during, and after activities for five of
Kevin Henkes' best books including Lilly's Purple Plastic Purse, Owen,
Chrysanthemum, A Weekend With Wendell, and Wemberly Worried. Each unit
includes ~20 pages of material for a total of 100 pages created in a
before, during, and after format.
WHAT'S INCLUDED:
The focus for this unit is on comprehension skills and strategies. Skills included are
◾️ schema builders for each book unit
◾️ tier 2 vocabulary activities
◾️ making connections
◾️ summarizing
◾️ sequencing
◾️ questioning task cards for each story and response form
◾️ making comparisons
◾️ cause and effect
◾️ story elements
◾ making predictions
◾️ plot
◾️ and writing in response to reading.
The materials are intended to provide students with the modeling and thinking strategies they need to fully comprehend and use their story knowledge and extend through writing opportunities.
For a detailed look at this unit, a preview is provided with most pages visible.
© 2019 Comprehension Connection by Carla Fedeler All rights reserved.
Save this product for later