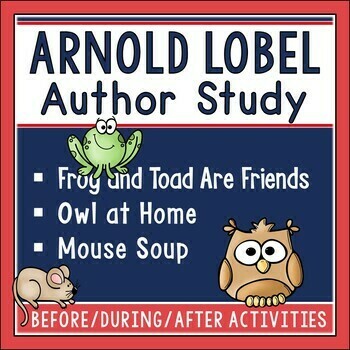 Arnold Lobel Author Study
SKU 00150
Product Details
Arnold Lobel is a wonderful author for beginning readers. This sampling of units are perfect for introducing your first grade students to his work. Your students will be ENGAGED and LOVE their work too. Each comprehension focused unit includes before/during/after activities for each chapter keeping your students focused throughout the reading process.
Skills addresses through these units include:
schema building

vocabulary

author's purpose

genre studies

making connections

characters and character traits

sequencing

problem/solution

read/say something organizer

summarizing

questioning

plot development

cause/effect

making predictions

Visualizing (sketch to stretch)

plot (beginning, middle, end)

comparing fiction and nonfiction

context clues

abc order

and a story map.
A preview of these three units is available at the link above. Be sure to review prior to purchase in case you have questions.
© 2016 Comprehension Connection by Carla Fedeler All rights reserved.

Save this product for later