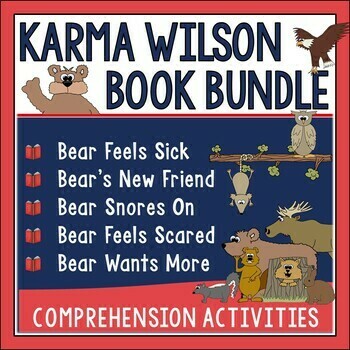 Karma Wilson Book Companion Bundle
SKU 00198
Product Details
This Karma Wilson Book Unit Bundle will give you materials for FIVE of her sweet bear books. Karma Wilson's bear books have quickly become a hit. Their sweet characters draw you in, but the rich vocabulary and plots keep you! She has become a favorite author mine, and I hope you'll love using her books as much as I do.
WHAT'S INCLUDED?
Bear Snores On
Bear Feels Sick
Bear Wants More
Bear's New Friend
and Bear Feels Scared
The focus for this unit is on comprehension skills and strategies. Skills included are:
◾️ schema builders for each book
◾️ tier 2 vocabulary activities
◾️ making connections
◾️ summarizing
◾️ questioning task cards and response sheets
◾️ making comparisons
◾️ cause and effect
◾️ story elements
◾️ making predictions
◾️ plot
◾️ comparing nonfiction and fiction
◾️ character analysis
◾️ finding text evidence
◾️ making inferences
◾️ writing in response to reading
◾️ process writing
◾️ class book options
◾️ and a Bear Research Lapbook
This bundle includes about 120 total pages planned in a sequential order to guide your readers toward deeper thinking. The materials are intended to provide students with the modeling and thinking strategies they need to fully comprehend and use their story knowledge. The bundle is aligned with the Common Core standards.
Save this product for later