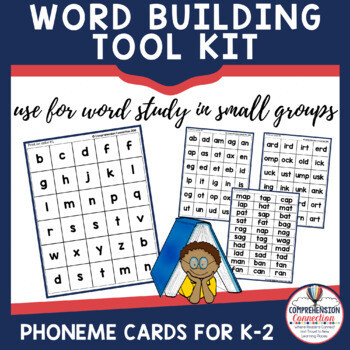 Word Building Tool Kit
SKU 00211
Product Details
The materials in this bundle are very adaptable to teacher needs. The set includes printable phoneme cards that can be used for making words, push it say it, cards for modeling rhyme, or teacher made games. Print on colored paper as outlined, laminate, and cut apart. Then, store them in a small tackle box for guided reading or word study lessons.
This set includes the following patterns:
short vowel CVC
beginning/ending blends and digraphs
CVCe patterns
CVVC patterns
ambiguous vowels
and r-controlled patterns. (Letter Name-Within Word)
I use these daily for RTI, for quick word study lessons, and for tutoring. Keep your set nearby for easy access.
Here's what buyers have shared:
"I have several students that are lacking in reading skills. This resource is great for building that foundation that they are lacking."
"Great differentiated word work activity, it allows multiple entry points for students."
"Great package with many listed suggestions. Thank you for compiling this and including directions for each section if somebody was unsure how to use the cards. "
© Comprehension Connection by Carla Fedeler All rights reserved.
Save this product for later