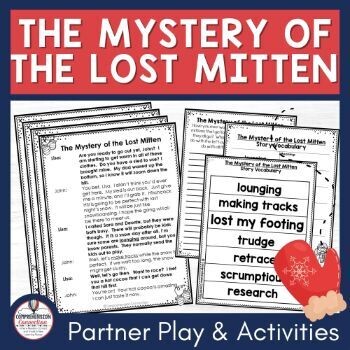 Winter Partner Play, Mitten Themed Fluency Activity
SKU 00054
Product Details
Children love reading and performing partner plays, but partner plays also offer a way to build fluency and comprehension skills too. This mitten themed script includes important vocabulary as well as before, during, and after activities for close reading and writing extensions. You can have fun AND work on fluency and comprehension at the same time!
HOW TEACHERS CAN USE THIS PARTNER PLAY:
This four page script can be used with intervention groups needing additional support in the area of reading, in a fluency literacy station during your small group rotations, or for fun to work in additional reading opportunities. It is a combination of Reader's Theater and Close Reading.
WHAT IS INCLUDED IN THIS RESOURCE?
The Four Page Partner Play
A Quick Write about What to Do with Unmatched Mittens
A vocabulary page to practice with using context clues and Word Cards
Questioning task cards (12 cards) that hit the higher level of Blooms and require students to cite text evidence and explain their thinking with a response sheet
A comprehension page for during or after that requires students to record text information telling the story's problem, rising action, climax, and solution
Creative Writing Prompt: The Mystery of the Lost Mitten (new version or story retelling)
MORE ABOUT THE RESOURCE:
The target grade level for this resource is third to fourth grades. It includes 17 pages total and takes about 3-4 lessons to complete all of the activities included.
For a detailed look at this unit, a watermarked preview is available showing all of the pages in the resource.
OTHER PARTNER PLAYS YOU MIGHT ENJOY:
OR....you can get them all at a great savings with the bundle:
PARTNER PLAYS BUNDLE FOR UPPER ELEMENTARY
TEACHERS LIKE YOU SAID…
⭐️⭐️⭐️⭐️⭐️ Mary D. says, "My students loved this! "
⭐️⭐️⭐️⭐️⭐️ Amy H. says, "These activities are perfect for centers/ buddy work!"
⭐️⭐️⭐️⭐️⭐️ Alexis J. says, "Cute activity! Love the comprehension questions and that there is a written component! Thanks!!"
Other Winter Resources You Might Like
Karma Wilson's Bear Book Bundle
Copyright © Comprehension Connection.
Permission to copy for single classroom use only.
Please purchase additional licenses if you intend to share this product.
Save this product for later