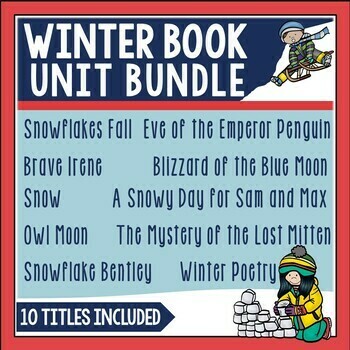 Winter Book Bundle
SKU 00156
Product Details
Bundle Description
This unit bundle features rich fall themed books and activities perfect for reading and writing workshop plus two fall partner plays and my fall poetry set. The books featured in this bundle include the following:
Snow by Cynthia Rylant (digital included)
Snowflakes Fall by Patricia MacLachlan
Owl Moon by Jane Yolen
Brave Irene by Wlliam Steig
Snowflake Bentley by Jacqueline Martin
Eve of the Emperor Penguin by Mary Pope Osborne
Blizzard of the Blue Moon by Mary Pope Osborne
A Snowy Day for Sam and Max by...Me
The Mystery of the Lost Mitten by...Me, and
A Winter Poetry Collection (10 poems and activities) by...Me\
PLUS...a little added bonus...Frosty's Magical Appearance (a partner play)
Skills included in this bundle are:
prereading schema building
vocabulary instruction
narrative elements
cause and effect relationships
sequencing
character traits and development
making comparisons
questioning task cards
summarizing
writing in response to reading
fluency practice (poems and partner scripts)
close reading practice
partner scripts work well in stations
visualizing, and
making predictions
A preview for each unit is included in the preview file, and sample pages for each unit can be seen on the book listings. The total value of this bundle is $40.50 but is discounted to $28.00 for a savings of 12.50.
If you have any questions, please do not hesitate to ask. I will respond quickly.
Thanks for visiting!
Carla
Save this product for later