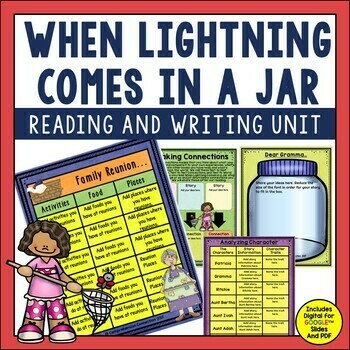 When Lightning Comes in a Jar Activities
SKU 00275
Product Details
This lovely book about Patricia's family reunion is the PERFECT MENTOR TEXT for writing, author's craft, and connections. Just PRINT AND GO and save yourself time! It works well for guided reading groups, pair/share activities, and for skill modeling. With Digital and PDF, you have lots of options!
Skills taught through this book include:
schema building about the family reunions
vocabulary (2 pages)
making connections
character traits
story elements
a RAFT project
questioning task cards and recording sheet
and writing in response to reading (20 B/W pages PDF and 20 Color pages Google Slides TM).

Be sure to check the preview for a closer look. © 2016 Comprehension Connection by Carla Fedeler All rights reserved.
Save this product for later