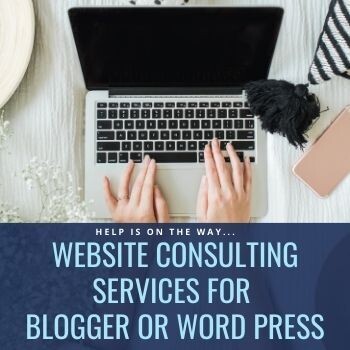 Website Consulting Service
SKU 00304
Product Details
Are you new to blogging and need help with getting started? Perhaps you have an established site that just isn't performing like you'd hoped. A consulting session may be just what you need in order to get pointers and feedback for your next steps. I am now offering appointments to help bloggers with starting off the right way in order to avoid mistakes we all make.
What to expect in your consulting session:

Prior to our Zoom meeting, I will review your website to make notes on your Grows and Glows. I will check your home page, links on your menu bar, and specific blog posts to get a true picture of where to begin and how to help you. If you want me to look at the "back side" of your site and see how it's set up, we can arrange for a safe way to share a temporary user name and password.
During our session, I will answer your questions and show you what to do to improve your site. We'll discuss SEO, graphics, marketing ideas, or whatever you need. Since I have had an ecommerce store on Teachers Pay Teachers since 2012 and through Ecwid on my website since 2019, managed my own websites on Blogger and Word Press (Comprehension Connection and Blog Designs for You) during that same period, and love designing websites, I feel like I can help you too. I run a Facebook group that supports bloggers, but sometimes one and one works better. We can address your specific needs in less time.
After your session, we can stay connected through the Facebook group and email. If additional time is needed, we can always set up another consulting session too.
What if I have a technical issue that isn't addressed during our session?

I will do my best to address all of your questions in the allotted time period. If you have theme related issues or tech issues that are more involved, I can not guarantee that these issues will be fixed. However, I may have troubleshooting suggestions that help. Worst case, I can always direct you to people I have used when I've had questions or needs.
How will we arrange our meeting?

To set up your appointment time, you will use the Google Calendar to book a time. Once I receive the booking request, I will reach out to you to confirm that the time suits my schedule. If needed, we'll adjust the time and date. I only ask that you provide me with time to analyze your site and time to prepare for our meeting. The fee will include payment for my preparation as well as for the hour we meet.
Save this product for later