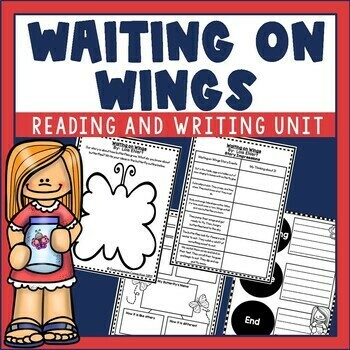 Waiting on Wings Book Activities
SKU 00262
Product Details
is a great books for butterfly life cycles. This bundle is PRINT AND GO includes materials you can use for mentor text lessons, guided reading to tie into your science unit, or for extension. The set also includes a research project to use for writing.
WHAT'S INCLUDED
Schema builder about butterflies
Word Splash for words related to butterflies
Vocabulary introduction and wor cards
Nonfiction versus Fiction Anchor Chart and Organizer
Story Elements Organizer
Sequencing Events Activity
Story impressions (visualizing)
BME butterfly themed organizer
Discussion task cards/Answer form
Research organizer
Essay planner
Writing pages
The bundle includes 24 pages in length. Your students will have the opportunity for working on comprehension and writing skills.
Be sure to check out the preview included above for a detailed look at the pages.
© 2019 Comprehension Connection by Carla Fedeler All rights reserved.
Save this product for later