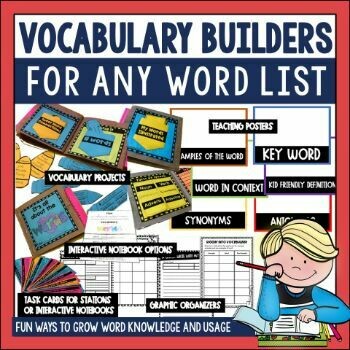 Vocabulary Activities for Any Word List
SKU 00006
Product Details
You have so many things to choose from all within this one bundle and perfect for grades 2 through 5. You can use them all with ANY WORD LIST you have offering a great variety all year long. Print on bright paper for a polished look too.
Here's a list of what is included:
✱ vocabulary planning page
✱ vocabulary paper bag book
(all pieces can also be used in interactive notebooks)
word selection and kid-friendly definitions

examples/non-examples

sweet connections (synonyms or derivations)

hashtag it (categorizing words)

i spy activity and word clues

my words in context (story plan and writing page)

parts of speech sort

my words illustrated
✱N ine Graphic Organizers
spotlight on vocabulary

building word knowledge

words close to our heart

growing our word knowledge

quick write

four square vocabulary

diggin' into vocabulary

vocabulary anchored in meaning
(can be glued in interactive notebooks and used more as an exit ticket, in a game format, or as homework)
✱ Personal Word Wall (staple to the four sides of a folder)
✱ Interactive Notebook Options:
accordion book

vocabulary flipbook

inward doors
words illustrated

kid friendly definitions

connecting word pairs

synonym flower

word cards/cartoons

matchbox examples and non-examples

using my words to summarize my text (writing)

word wizards activity

grading rubric
✱ Vocabulary Trifold (2 pages/One activity per day)
Vocabulary Teaching Task Cards for Classroom Discussion
Little prep time required and easy to implement. Supplemental materials needed include: lunch sized paper bags, interactive notebooks, dice, file folders, scissors and glue.
© 2019 Comprehension Connection by Carla Fedeler All rights reserved.
Save this product for later