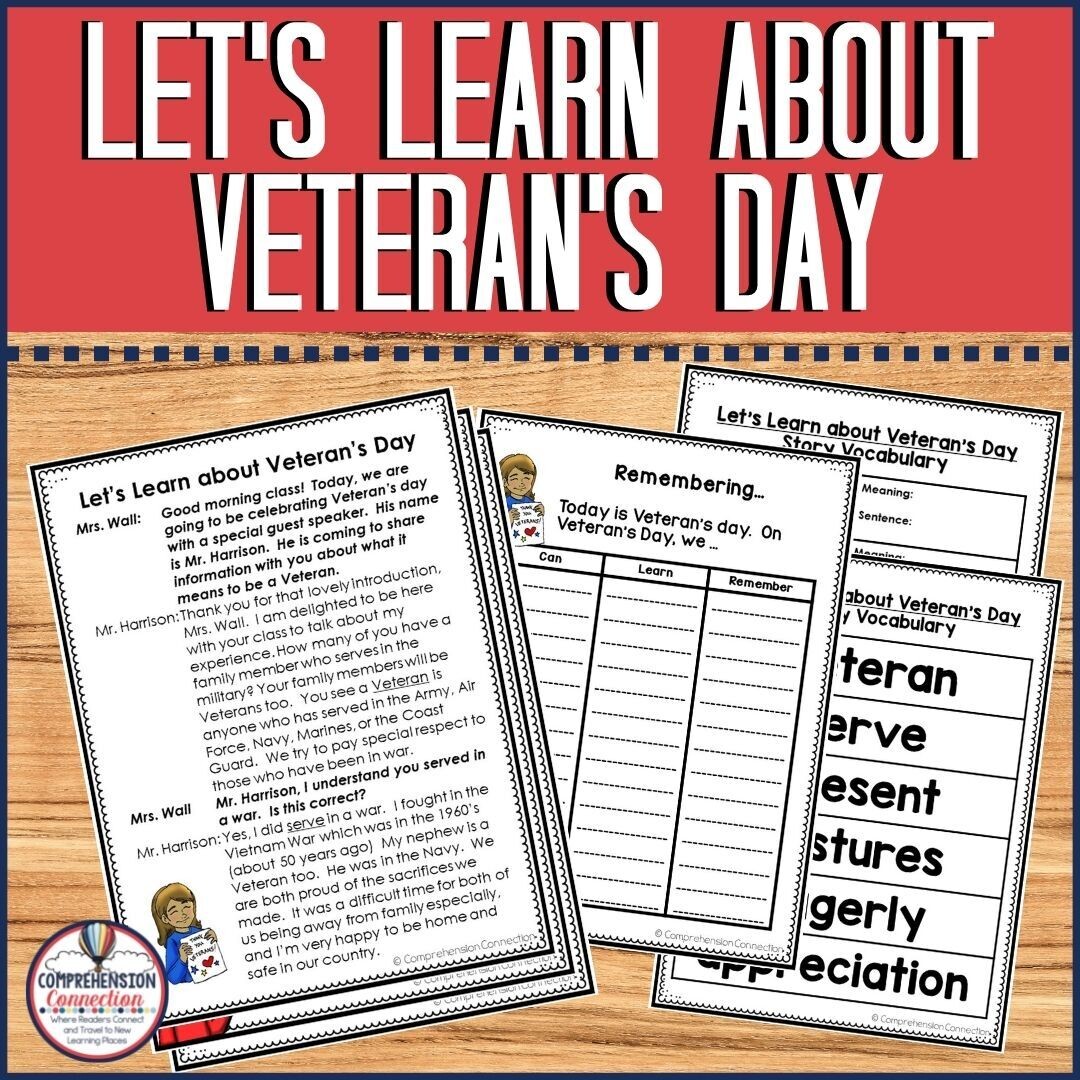 Veteran's Day Partner Play for Upper Elementary
SKU 00055
Product Details
Partner plays are a great way to work on fluency, reading comprehension, and key content areas all at the same time. This partner play focuses on Veteran's Day and explains why we celebrate it and what Veterans have done for us. Before, during, and after reading activities are included for close reading.
HOW CAN TEACHERS USE THIS VETERAN'S DAY RESOURCE?
This partner play was developed to support students who needed reading intervention AND support with fluency. It takes a few days to complete the activities that accompany the play, so students have purposeful reading opportunities. By rereading the play, students build fluency, deepen understanding of content vocabulary and concepts, and are engaged purposefully with the text.
WHAT ACTIVITIES ARE INCLUDED IN THIS VETERAN'S DAY PARTNER PLAY?
Let's Learn about Veteran's Day Play (3 pages)
Column Notes about Veteran's Day
A vocabulary page to practice with using context clues and vocabulary word cards
Questioning task cards (12 cards) that hit the higher level of Blooms and require students to cite text evidence and explain their thinking with a response sheet
A comprehension page for during or after that requires students to record text information about Veteran's Day, and
A writing page for use as a quick write or exit ticket.
MORE ABOUT THIS RESOURCE:
You can use this resource for paired reading while you work with small groups, for guided reading time, or as part of your Veteran's Day unit. The target grade level is third through fifth grades since these concepts are taught at these levels typically.
For a detailed look at this unit, a preview is provided with all pages visible.
OTHER PARTNER PLAYS AVAILABLE FOR UPPER ELEMENTARY
OR....you can get them all at a great savings with the bundle:
PARTNER PLAYS BUNDLE FOR UPPER ELEMENTARY
TEACHERS LIKE YOU SAID…
⭐️⭐️⭐️⭐️⭐️ Denise Z. says, "This resource was amazing! 🙂 Thank you so very much for taking the time to make this resource for busy teachers like myself. I am so grateful! 🙂 THANK YOU! 🙂 "
⭐️⭐️⭐️⭐️⭐️Mrs O Knows (TpT Seller) says, "I used this set with multiple levels of readers in my classroom. My low level readers completed the activities in a guided setting, my on-level readers completed these with a partner, and my above-level readers read the script and created their own questions and vocabulary. I LOVED everything about this resource! Thank you!"
⭐️⭐️⭐️⭐️⭐️ Debbie T. says, "Great way to practice oral reading, comprehension and build background knowledge. Thanks!"
⭐️⭐️⭐️⭐️⭐️ Karen S. says, "Cute but lengthy. We tried it with 2nd grade . . . definitely geared for older . . . which we knew going in! The materials were quality and well-produced."
Copyright © Comprehension Connection.
Permission to copy for single classroom use only.
Please purchase additional licenses if you intend to share this product.
Save this product for later