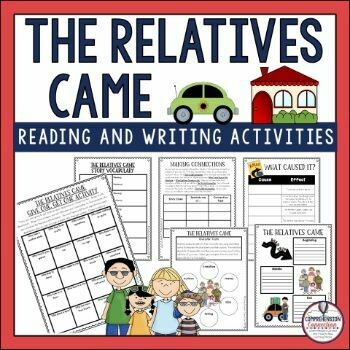 The Relatives Came Activities
SKU 00147
Product Details
The Relatives Came is a classic from Cynthia Rylant. This comprehension focused book companion includes before/during/after activities in both PDF and electronic for Google Slides TM. Use the book as a mentor text, in guided reading, for partner work or in your literacy stations.
Skills addressed with this unit include prereading, vocabulary, character traits, cause and effect, sequencing, summarizing, questioning task cards and response form, making connections/comparisons, and creative writing in response to reading (class book) These activities would work well as part of an author study of Cynthia Rylant, as a class read aloud to model strategies for younger readers, and with partner reading.
Please Note:
The preview only shows the components of the PDF version. The digital version is in color for projecting and focuses on the same skills.
© 2019 Comprehension Connection by Carla Fedeler All rights reserved.
Save this product for later