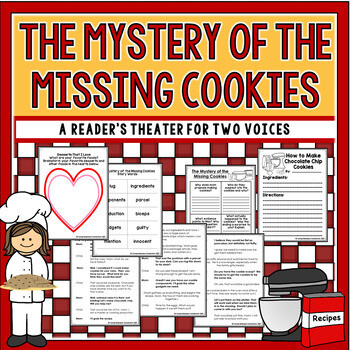 The Mystery of the Missing Cookies Partner Play
SKU 00079
Product Details
Partner Plays are great for building fluency and comprehension skills. The Mystery of the Missing Cookies is a script for the middle grades about a mom and child making cookies together. This five page partner script comes with the following activities:
a vocabulary page for preteaching challenging words
a schema building activity about favorite desserts
a questioning page
and two pages for a written response (How-to Paper).

This resource works well with pairs during Read with Partner or Guided Reading time. Students practice finding text evidence to make comparisons, analyze character traits and development, and story elements, build vocabulary, and practice writing in response to reading.
Note-You might look at the Poetry for Food Lovers set too for a cookie themed poem.
Save this product for later