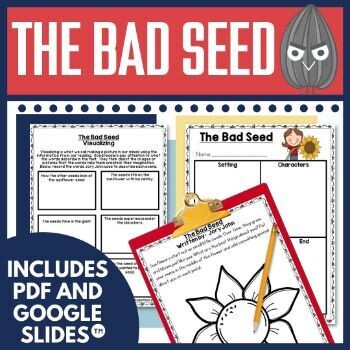 The Bad Seed Activities
SKU 00123
Product Details
The Bad Seed by Jory John is one of the best books for working on classroom expectations and routines. This EASY TO USE and EFFECTIVE bundle draws upon these wonderful elements of analogy to guide classroom discussion. The Digital version in color is perfect for projecting and assigning with your one-on-one devices, but you also have the pdf for printing.
HOW TEACHERS CAN USE THE BAD SEED RESOURCE BUNDLE:
With these resources, you can use the book as a mentor text for multiple skills and at different points in the year. It works well for MANY comprehension skills, for writing ideas, and most importantly, for building character in the classroom and a positive classroom climate. It provides a great springboard for discussions on positive and negative behaviors. The "Bad Seed" shows negative behaviors, but it also shows how the seed becomes a good seed too. You can discuss with your students how the other seeds show support and help him improve. Then, apply this learning with the Back to School (Be the Best Seed You Can Be) Lapbook project. (digital version available to save ink as well as a scoring rubric).
WHAT ACTIVITIES ARE INCLUDED IN THE BAD SEED RESOURCE BUNDLE?
The best things about me schema builder
Preteaching vocabulary organizer and word cards
Visualizing with text description
Sequencing with Sticky Notes
Story Elements organizer
Questioning (quiz or question task cards/response form offering 2 options)
Story Summarizing with an Acrostic Poem (Sunflower)
Social Emotional Development Lapbook for Back to School (9 pages-"Be the Best Seed You Can Be")
Writing Extension (3 pages including a cover)
52 PAGES IN ALL (1/2 B/W PDF AND 1/2 COLOR GOOGLE SLIDES TM)
MORE ABOUT THE BAD SEED RESOURCE:
The unit is set up in a before/during/after format and includes 28 pages total. A preview of the materials included is attached, so be sure to look closely. There are several video readings available on Youtube or you can use the book as an interactive read aloud if multiple copies are not available.
WHAT TEACHERS LIKE YOU SAID ABOUT THE BAD SEED BUNDLE:
Kaitlyn says:
⭐️⭐️⭐️⭐️⭐️Absolutely LOVE this! Thank you for making this so thorough with not only comprehension but applying the book to their own lives!
Marissa G. says:
⭐️⭐️⭐️⭐️⭐️My student loved the book and these activities!
Victoria says:
⭐️⭐️⭐️⭐️⭐️ Highly recommend for back to school!! Great resource!! Thank you!!
Rebecca says:
⭐️⭐️⭐️⭐️⭐️ This is a great resource with creativity.
Copyright © Comprehension Connection.
Permission to copy for single classroom use only.
Please purchase additional licenses if you intend to share this product.
© 2015 Google and the Google Apps are registered trademarks of Google Inc.
Save this product for later