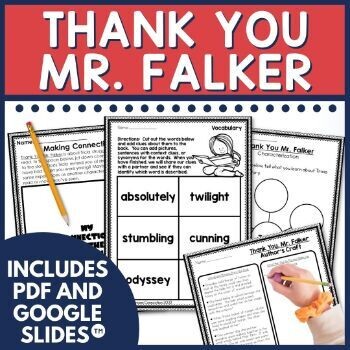 Thank You Mr. Falker by Patricia Polacco Activities in Digital and PDF
SKU 00096
Product Details
Thank You Mr. Falker by Patricia Polacco is a must read with every upper elementary class, but to make the most of it, you need comprehension focused activities for deeper meaning. s rich vocabulary and meaningful themes are so important for students. This well reviewed bundle includes both a full color digital option using Google Slides TM for modeling and 1-1 devices and the PDF for small group. It is common core aligned too!
HOW TEACHERS CAN USE THIS THANK YOU MR. FALKER UNIT:
The bundle, which is part of a larger Patricia Polacco Author Study, works well for introducing your students to Patricia Polacco's wonderful themes and writing style. Your students may connect with the challenges Patricia faced learning to read even if their challenge might be unrelated. Hopefully, all will learn from her perseverance and determination. is a wonderful choice for community building, for studying theme, and for introducing biographies.
ACTIVITIES TO USE WITH THANK YOU MR FALKER:
schema building
tier 2 vocabulary for the book
comprehension skills include story plot (problem/solution)
summarizing
author's craft (2 pages)
visualizing
author's purpose
questioning (task cards, response page, and quiz)
book review project
a bucket filler response
Hard Work Pays Off writing prompt
HOW THE THANK YOU MR. FALKER UNIT IS ORGANIZED:
The unit includes 44 pages of activities (22 in each format). You can pick and choose the parts you want to use and the order. However, my units are organized in a before, during, and after format. I typically project the part of the lesson I'm using to demonstrate my expectation and assign either the digital or print version for completion.
TEACHERS LIKE YOU SAID…
⭐️⭐️⭐️⭐️⭐️ Stranded Goose says, "I love the variety of activities in this product. I was easily able to separate it into a skill focused days to fit my students' needs. "
⭐️⭐️⭐️⭐️⭐️ Elaine Dixon says, "I really like that the digital copy and print copy was included. Working with a home bound student and it worked very well with him this morning."
⭐️⭐️⭐️⭐️⭐️ Mary Russell says, "This a great resource for using this book and provides different comprehension strategies as well as higher order thinking skills!"
⭐️⭐️⭐️⭐️⭐️ Avery Z. says, "I used this resources with my after school students which are learning from home. They really enjoyed the book and the resources aligned very well. "
OTHER PATRICIA POLACCO UNITS YOU MAY ENJOY
To get them all, purchase the Patricia Polacco Author Study Bundle.
PATRICIA POLACCO AUTHOR STUDY IN DIGITAL AND PDF
Copyright © Comprehension Connection.
Permission to copy for single classroom use only.
Please purchase additional licenses if you intend to share this product.
© 2015 Google and the Google Apps are registered trademarks of Google Inc.
Save this product for later