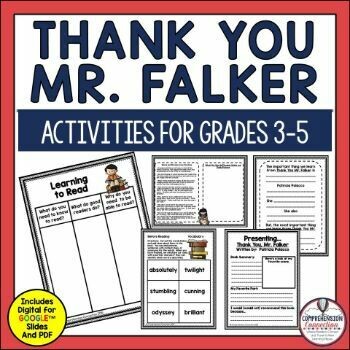 Thank You Mr. Falker Book Companion
SKU 00096
Product Details
Thank You, Mr. Falker is a must read with every upper elementary class, but to make the most of it, you need activities for deeper meaning. Let me help you out! This well reviewed bundle includes both a full color electronic option using Google Slides TM for modeling and 1-1 devices and the PDF for small group. It is common core aligned too!
The activities in this unit are organized in before, during, and after fashion and include the following:
schema building

tier 2 vocabulary for the book

comprehension skills include story plot (problem/solution)

summarizing

author's craft (2 pages)

visualizing

author's purpose

questioning (task cards, response page, and quiz)

book review project

a bucket filler response

Hard Work Pays Off writing prompt
The unit includes 44 pages of activities (22 in each format). Thanks for visiting today, and let me know if you have any questions.
Save this product for later