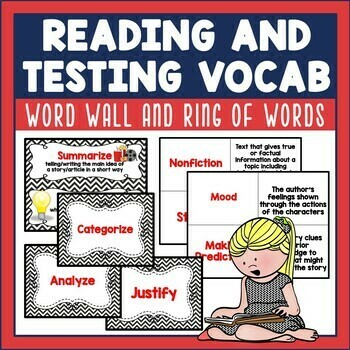 Testing Vocabulary Cards
SKU 00284
Product Details
Test vocabulary can be a real challenge for students, but this vocabulary building set of reading words will help your students recognize and understand questions stems in order to better answer state test questions AND reading skill words you're teaching.
WHAT'S INCLUDED?
✱ vocabulary words with definitions (4 1/4 x 11)
✱ word/definition cards to put on rings for students to study
✱ and slides with just the vocabulary words only to use for whole group discussion.
107 pages
The set includes 52 vocabulary words related to fiction, nonfiction, comprehension skills, poetry, and testing words. The vocabulary would be best for grades 3-5, but most of the words would be very helpful to K-2 students as well.
For a detailed look at this unit, a preview is provided with most pages visible.
© 2019 Comprehension Connection by Carla Fedeler All rights reserved.
Save this product for later