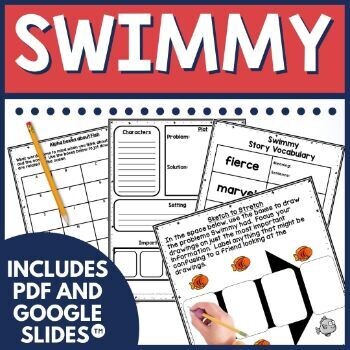 Swimmy by Leo Lionni Reading and Writing Activities in Digital and PDF
SKU 00206
Product Details
Swimmy by Leo Lionni is a wonderful choice for second to third grade. This EASY TO USE unit includes before/during/after activities for guided reading groups, partner work, book clubs, and mentor text lessons. AND, it's prepped for Google Slides TM now too!
WHAT'S INCLUDED IN THE SWIMMY UNIT?
schema building (Alphaboxes about ocean animals)
vocabulary organizer and word cards
making predictions with I Bet strategy
author's purpose
making comparisons organizer
writing in response to the reading
sequencing events
story elements
visualizing (Sketch to Stretch)
summarizing
question task cards and response form
BME retelling
class book (Swimmy's Swimming Adventures
43 pages total (1/2 PDF and 1/2 Google Slides TM)
OTHER LEO LIONNI RESOURCES YOU MIGHT LIKE:
This unit can be purchased individually, but is also included in my Leo Lionni Author Study. Other units included in the author study are:
GET THEM ALL IN THE AUTHOR STUDY:
Leo Lionni Author Study Bundle
WHAT OTHER TEACHERS HAVE THOUGHT OF THIS UNIT:
⭐️⭐️⭐️⭐️⭐️ Elaine G.. says, "Such a big help when planning my guided reading group! Thanks!"
⭐️⭐️⭐️⭐️⭐️ Toria H. says, "Awesome unit! Includes several before, during and after reading activities to choose from. Very colorful and inviting :)"
⭐️⭐️⭐️⭐️⭐️ Heidi Yow (TpT Seller) says, "Easy to use, students really enjoyed it!"
⭐️⭐️⭐️⭐️⭐️ Buyer says, "A very solid set of activities for reader response."
Copyright © Comprehension Connection.
Permission to copy for single classroom use only.
Please purchase additional licenses if you intend to share this product.
Save this product for later