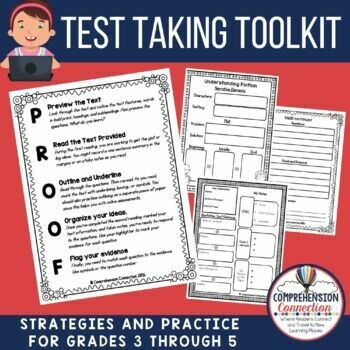 Study Skills Tool Kit for Reading Comprehension
SKU 00100
Product Details
This Test Prep Toolkit for Reading is much more than passages and questions. These test taking strategies are really study strategies your students need for LIFE. The set includes comprehension and vocabulary strategies that will help your students break down the text information into tasks they can confidently attack. The bundle will be growing as I prepare materials for my targeted kids. The materials included to date were used successfully with my students last year in conjunction with weekly Close Reading sets, Reader's Theater, and Partner Scripts. This year, I am building notebooks with my kids as I introduce and model for them, practice and perfect with them.


Product Contents
This set now includes the following material sets. A detailed preview is included, so be sure to view each of the slides for a closer look. An explanation of how I use each subset is also included:


Question Answer Relationship-Anchor Chart
Interactive Notebook Pieces
Question Stems
Nonfiction Text Structures-Anchor chart and Interactive Notebook Options for Each Type
PROOF Flipbook
Organizer for Close Reading
Testing Text Types by Purpose and Passage samples
SQ3R Anchor Chart and Organizers
Fiction and Nonfiction Text Features
Responding to Fiction and Nonfiction
Comprehension Skill Lessons (Anchor charts, Practice)
Context Clues-Strategy Chart, Practice Pages, and Task Cards
Synonym/Antonym Anchor Chart
Synonym/Antonym Interactive Notebook Pieces
Synonym/Antonym Parking Lot Games


Again, the focus for this unit is on comprehension skills and strategies. It is currently at 110 pages. For a detailed look at this unit, a preview is provided with most pages visible.


Thanks for shopping at Comprehension Connection!
Save this product for later