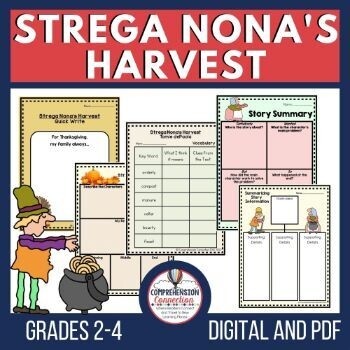 Strega Nona's Harvest Activities in Digital and PDF
SKU 00323
Product Details
Strega Nona Harvest by Tomie dePaola is about planting and harvesting a garden. Big Anthony is back to his antics as he plants his own garden using Strega Nona's magic spells. This collection of comprehension activities will help your kids enjoy the book and work on comprehension skills too. Use them in guided reading, as mentor text lessons, with partners, or in stations.
Product Contents
The bundle includes the following:
Schema Builder-Quick Write about Thanksgiving
Vocabulary and Word Cards
Story Elements and Retelling
Making Connections
Story summary (anchor chart, main idea/details, and post reading summary page)
Making Comparisons
Questioning Task Cards
Gardening Lessons Activity
Giving Back to Your Community Class Book
The bundle includes 19 B/W pages and 19 Color pages for Google Slides TM to give you several skill options. A preview of the materials included is attached, so be sure to look closely.
Save this product for later