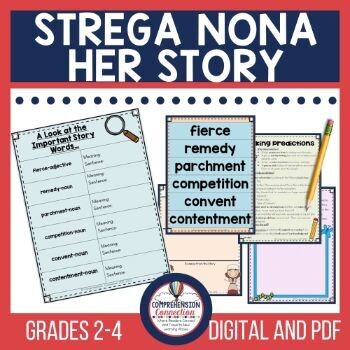 Strega Nona Her Story by Tomie dePaola Activities in Digital and PDF
SKU 00324
Product Details
Strega Nona Her Story gives an introduction to the Strega Nona series by Tomie dePaola. It is filled with rich vocabulary and imagination. This collection of comprehension activities encourages deep thinking and interaction with the text. Students can work on them in guided reading, as a mentor text lessons, with partners, or in stations.
What's included in the Strega Nona Her Story Bundle?
The bundle includes the following:
Schema Builder about Strega Nona's birth (tied to your students' births)
Vocabulary Activity and Word Cards
Making Predictions Anchor Chart and Activity
Making Connections (2 Pages)
Story Elements (4 square thinking)
Character Traits (project)
Story Summarizer
Question Task Cards and Recording Sheet
Class Book (My Story)
How is the Strega Nona Her Story Unit organized?
The bundle includes 21 PDF and 21 Google Slides TM pages to give you several skill options. A preview of the materials included is attached, so be sure to look closely. (digital option not pictured, but the activities are the same as PDF). The activities are set up to be used in a before-during-after format.
RELATED TOMIE DEPAOLA RESOURCES YOU MIGHT LIKE:
Tomie DePaola is a favorite author of many elementary teachers. I have created resources for many of his books including:
You can also save money and get the full Tomie DePaola Author Study Bundle.
WHAT OTHER TEACHERS HAVE TO SAY:
⭐️⭐️⭐️⭐️⭐️ My students really enjoyed this as an end of year unit!
⭐️⭐️⭐️⭐️⭐️ Great addition to our study of Strega Nona and Tomie DePaola books
⭐️⭐️⭐️⭐️⭐️ Great resource for an author study. My students loved the activities.
⭐️⭐️⭐️⭐️⭐️ I love Tomie dePoala! Thanks for giving me more ideas to work with.
⭐️⭐️⭐️⭐️⭐️ Thanks so much!!! What a great unit. Love the graphic organizer and the clip art. Great way to engage the students.
Copyright © Comprehension Connection.
Permission to copy for single classroom use only.
Please purchase additional licenses if you intend to share this product.
Save this product for later