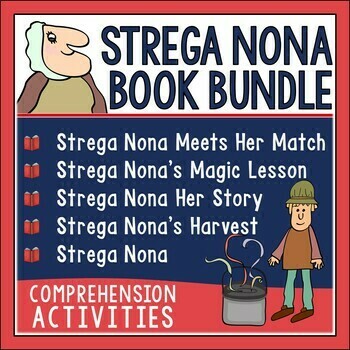 Strega Nona Book Bundle
SKU 00192
Product Details
Bundle Description
This PRINT AND GO bundle includes FIVE Strega Nona book companions focused on comprehension strategies. The sets go with Strega Nona, Strega Nona Her Story, Strega Nona's Magic Lessons, Strega Nona's Harvest, and Strega Nona Meets Her Match. This collection of comprehension activities will help your kids enjoy the books and work on comprehension skills too. Use them in guided reading, as mentor text lessons, with partners, or in stations.
WHAT'S INCLUDED?
Schema Builders for Each Book
Vocabulary for Each Book
Story Elements and Retelling
Characterization
Plot Development
Making Connections
Sequencing Events
Point of View
Summarizing
Visualizing
Making Predictions
Making Comparisons
Questioning Task Cards for several books
Class Books for EACH title
and much much more! (15-20 pages per title...approximately 90 pages of materials)
ROBIN SAYS...
This was a great resource to have for our Author Study on Tomie Depaola. The worksheets were easy to use for the students and it helped with comparing and contrasting the characters throughout the different Strega Nona stories.

KARIN W SAYS...
Detailed, creative and perfect in every way! Excellent resource!

Save this product for later