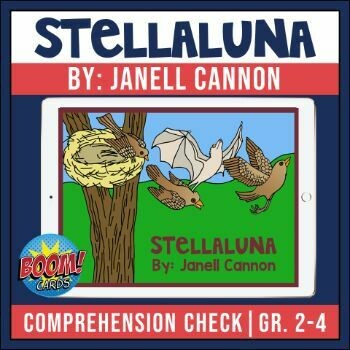 Stellaluna Boom Card Activities
SKU 00195
Product Details
Boom Cards are engaging and fun, and this comprehension focused set for the book, Stellaluna by Janelle Cannon, works beautifully for independent work during and after reading or as a group activity as an interactive read aloud.
Each digital task card has full audio support. Students respond (drag and drop activities) to comprehension questions, sequence the events of the story (2), identify the story elements, sort cause and effect events, and extended responses. This resource is best used AFTER reading or listening to the story. If you'd like to have your students listen to the story, the link below is to the story on Youtube. You can save it for later.
If you'd like to view the preview of this resource, click the link below:
1) To use Boom Cards, you must be connected to the Internet. Boom Cards play on modern browsers (Chrome, Safari, Firefox, and Edge). Apps are available for Android, iPads, iPhones, and Kindle Fires.
2) For security and privacy, adults must have a Boom Learning account to use and assign Boom Cards. You will be able to assign the Boom Cards you are buying with "Fast Pins," (play provides instant feedback for self-grading Boom Cards). Fast Play is always a free way for students to engage with Boom Cards decks.
3) For additional assignment options you'll need a premium account. If you are new to Boom Learning, you will be offered a free trial of our premium account. Click HERE to learn more.
4) The activities are perfect for guiding group discussion, for paired work if you are able to have students work together, for independent practice, or as an assessment tool to check understanding.
5) You can differentiate and assign some activities to one student and other activities to another student within your class with the paid account (recommended), and you can collect data based on performance.
Save this product for later