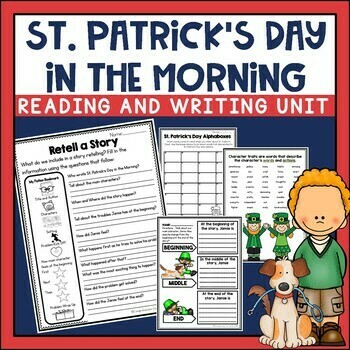 St. Patrick's Day in the Morning Book Activities
SKU 00245
Product Details
St. Patrick's Day in the Morning by Eve Bunting is a fun tale about keeping up with the big kids and celebrating St. Patrick's Day. It is very rich with vocabulary and depth, and it works well for modeling characterization, author's craft, story events and retelling, and using text evidence for questioning. The main character is perfect for story writing too.
Product Information
Schema Builder about St. Patrick's Day and Ireland
Vocabulary Organizer
Characterization about Jamie
Story Retelling
Character Change (Beginning, Middle, End)
Setting (Story evidence/drawing)
Author's Purpose Anchor Chart and Response
Questioning-guiding questions and text evidence
Writing in Response to Reading (St. Patrick's Day Adventures)
The unit is set up in a before/during/after format and includes printables and question task cards for the book, and a writing prompt for post reading. 17 pages total.
Save this product for later