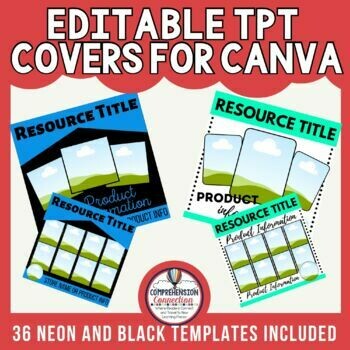 Square Canva Templates for Resource Covers and Social Media
SKU 00282
Product Details
If you're finding yourself short on time to make your TPT store and products shine, this resource is for you. It includes 36 slides (18 cover slides and 18 preview slides) that you can customize with your own colors, fonts, and product photos or page thumbnails. Each slide is completely editable!
How the Templates Work:
1) First, you'll open an account with Canva. Pro users can use them at no additional charge, but for the free account users (Canva will charge you a one time fee of $2 for the use of templates.) You will then log in to your account and go to step 2.
2) Purchase this resource and download the PDF containing the template link.
3) Click the link and add the templates to your account. Make a copy to keep the original.
4) Edit as much or as little as you like. If you have Canva Pro, you can add your own fonts and brand colors. To edit the colors, simply click on the design element, click the color box in the top left corner, and insert your color's hex code. To edit the text and font, just click the text box. You can change the alignment, letter spacing, and line height to accommodate your titles and descriptions.
5) Once you have the slides as you like, you can download them as JPG or PNG, save a collection of slides as a PDF, add animation and background music and save it as a MP4.
Frequently Asked Questions:
1) Can I use these templates in Powerpoint or Google Slides?
The answer is....partially. You can not make the edits in PPT or Google Slides, but you could delete what you don't want, save them as an image, and insert them as a background in either PPT or Google Slides.
2) Can I make changes to these?
Yes, once you download, you can change up anything you like. If you need square image blocks, search "frames" and insert what you like. For variations on the preview images, search "grid" for collage options.
3) Can I share these with my friends?
These templates are for the buyer only. Please kindly respect the time I've invested and enjoy using them, but please don't share the link.
4) Can I use them in Google Slides or Powerpoint?
Yes. You will have to download them. HERE is a tutorial by someone else.
Save this product for later