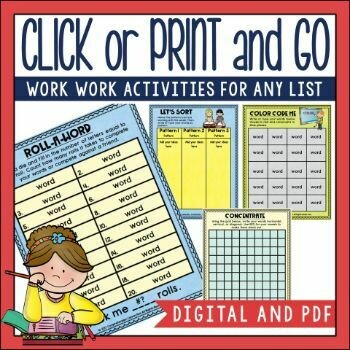 Spelling Activities for Any Word List
SKU 00071
Product Details
With these fun spelling activities, you have lots of choices in both digital and pdf. You can use the lesson activities for whole group, small group, in workstations, or as homework, and you can use any list of words you like. There are 25 activities in all (color and black/white) using Google Slides TM or paper/pencil
Here's a list of the activities:
My List Form
Let's Sort (3 column and 4 column sorting mat for any list)
Partner Sorts
Speed Sorting Forms (2)
Color Code It (You will need a red and a blue crayon)
Letter Tiles (You will need letter tiles from your favorite word-building game.)
Configure It
Roll-A-Word (You will need one die.)
Concentrate
3 Ways to Play
Domino Words
Change-O
Bullseye
Race to the Bottom (need pencil and paperclip)
Spelling Pyramids
Rhyme It
Related Words
Bam! Bam!
Fun with Phonemes
Syllable Sort
Add 'Em Up
Phone A Word
On Your Back Spelling
Give One Get One
Glue It
A full preview of both the PDF and DIgital files is included. (66 pages total). Be sure to look closely at the quality of the pages. You can just print or click and go with little additional prep.
Save this product for later