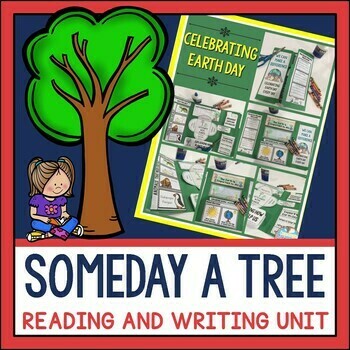 Someday a Tree Book Activities
SKU 00273
Product Details
If you're looking for the perfect book for Earth Day, is it. It is about how Alice's family tree has been poisoned by chemicals. Alice and her mom spend every day sitting beneath the tree reading, telling stories, and reminiscing about the past, but Alice discovers a strange color and smell to the grass around the tree. This bundle will provide you with all you need for studying the book AND using it as a mentor text for writing and Earth Day studies.
WHAT'S INCUDED?
In this unit, materials are included for the following:
1. Schema Builder (GIVE ONE GET ONE)
2. Vocabulary organizer and cards
3. Cause and effect relationships organizer
4. Making comparisons/connections
5, Visualizing using text evidence
6. Summarizing your reading
7,. Questioning page for discussion
8, Written response options (letter to Alice and open prompt page)
9. Earth Day Lapbook (14 pages including a grading rubric)
10. Making a Difference Class Book
Total pages=29
This unit would work well for Earth Day, Plant studies, and Spring. It can be purchased individually or as part of the Eve Bunting Bundle I have for spring.
Other Eve Bunting Units You Might Like that are part of the bundle:
Save this product for later