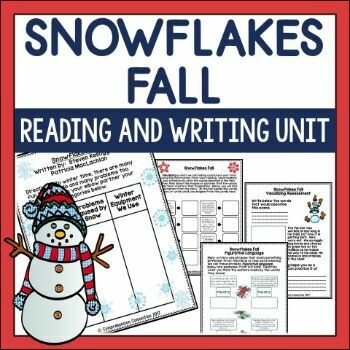 Snowflakes Fall by Patricia Maclachlan
SKU 00160
Product Details
Snowflakes Fall by Patricia MacLachlan was written in memory of the children lost at Sandy Hook Elementary School in Newtown, Connecticut and is perfect for use during the winter months. It is an absolutely beautiful analogy comparing the beauty and uniqueness of snowflakes and children and is a must read. This unit is intended as a mentor text bundle for comprehension and writing. Teachers read the book for comprehension skills first and follow up with the writing prompt for descriptive writing.
WHAT'S INCLUDED:
1. Schema Builder on Winter Fun
2. Story Vocabulary
3. Visualizing (2 pages)
4. Figurative Language (determining meaning)
5. Sequencing Events
6. Questioning (open response)
7. Writing in Response to Reading
8. Making Comparisons
9. Writing Prompt (Poetry or Descriptive writing...5 pages)
For a detailed look at this unit, a preview is provided with most pages visible.
© 2019 Comprehension Connection by Carla Fedeler All rights reserved.
Save this product for later