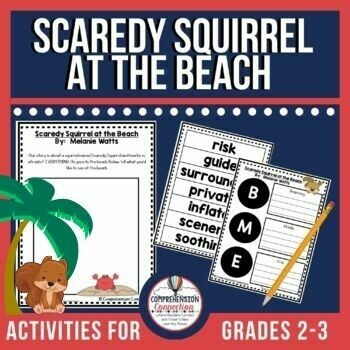 Scaredy Squirrel at the Beach Book Activities
SKU 00293
Product Details
Scaredy Squirrel at the Beach is perfect for second and third grade. This unit includes before/during/after activities to help your students work on comprehension skills. It is Common Core aligned, and EASY to USE. Just PRINT and GO!
Skills addressed with this unit include:
1.Schema builder
2.Vocabulary introduction and Word Cards
3.BME Organizer
4.All About Scaredy Squirrel
5.Retelling Story
6.Inside/Outside Circles
7.Story Elements
8.Making Connections
9.Discussion task cards Answers
10.Answer form
11.Favorite Scene
12.Writing pages
20 pages in all
These activities would work well as a summer read or at the beginning/end of the school year. You can also use the unit and book as a mentor text.
Save this product for later