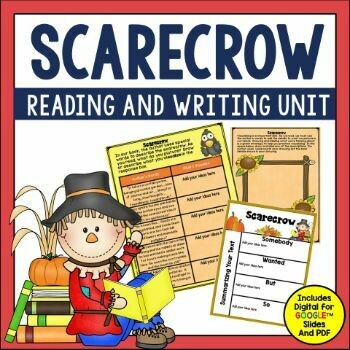 Scarecrow by Cynthia Rylant Book Activities
SKU 00197
Product Details
Scarecrow by Cynthia Rylant is one descriptive book that works beautifully as a mentor text for author's craft and especially with the Six Traits. Rylant's poetic language and description make this book perfect for character development, visualizing, and making inferences. It includes 17 pages PDF and 17 pages in full color digital using Google Slides TM.
Skills address in this unit are:
Schema building activity
Predicting organizer
Vocabulary preteaching page
Visualizing including text examples
A genre/point of view/author's purpose flapbook
Story summarizer interactive notebook pieces, and
Two written response sheets. (Great for a Class Book)
This book works well during the fall harvest or during planting season.
Save this product for later