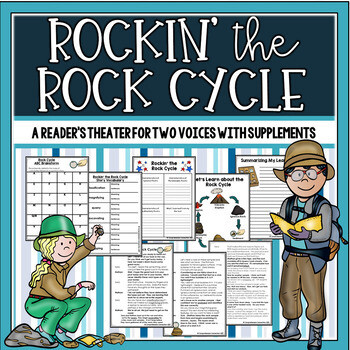 Rockin the Rock Cycle
SKU 00046
Product Details
If you want a highly engaging way to review your rock cycle concepts AND work on fluency and comprehension, then this resource would be a great choice. It includes a four page partner play and supplementary materials including the following teaching options:
The Partner Play
An ABC Brainstorm for Rock Cycle Words
A vocabulary page to practice with using context clues
Questioning task cards (12 cards) that hit the higher level of Blooms and require students to cite text evidence and explain their thinking with a response sheet
A comprehension page for during or after that requires students to record text information
A Rock Cycle anchor chart and practice page
A "Summarizing My Learning" page for use as a quick write or exit ticket.

This would work well to use in pairs during Read with Partner, Guided Reading time, or as part of your Rocks and Minerals unit. The target grade level is fourth or fifth grades.
Save this product for later