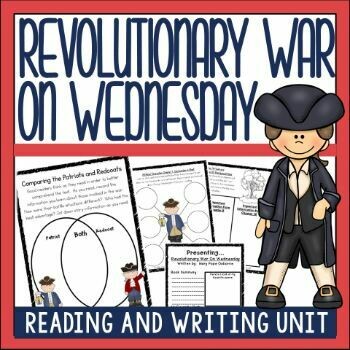 Revolutionary War on Wednesday
SKU 00093
Product Details
Revolutionary War on Wednesday by Mary Pope Osborne is another wonderful book for students just starting chapter books. This comprehension focused guided reading unit is set up with before/during/after activities and vocabulary for each chapter. It works well with guided reading groups and if you enjoy running literature circles.
Product Contents
Each chapter focuses on a different comprehension skill. Here is the table of contents:
Prereading Activity: Schema builder and Quick Write to build background.
Chapter 1: Vocabulary and Making predictions
Chapter 2/3: Vocabulary and Visualizing using text details about the setting.
Chapter 3: Vocabulary and Author's Purpose
Comparing Patriots and Redcoats and Learning about the Revolutionary Wary
Chapter 4: Vocabulary and Questioning
Chapter 5:Vocabulary, Facts, and Summarizing the Main Idea
Chapter 6: Vocabulary and Story Details
Chapter 7: Vocabulary and Character Analysis
Chapter 8: Vocabulary and Summarizing Information
Chapter 9: Vocabulary and Story Plot (Details)
Chapter 10: Problem and Solution
End of Book Report
Group discussion is encouraged throughout the reading of the book. The unit would also work well with literature circles. It's been tested in several classrooms and found to be easy to follow for parents and teaching assistance. An answer key is not included as some answers vary and group discussion fosters higher level thinking skills.
Save this product for later