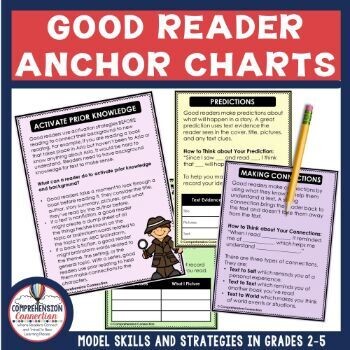 Reading Anchor Charts
SKU 00315
Perfect for skill modeling and in small group.
Product Details
Having reading anchor charts ready to print or project for your lessons helps speed up the planning process. These strategy and skill anchor charts can be printed on any color of paper you choose. Use the color anchor charts for projecting as you mark key teaching points with EASEL and give students printed anchor charts to use in their interactive notebooks for reference later and during reading as reminders. Perfect for Grades 2-5.
Activating Prior Knowledge
Predictions
Making Connections
Visualizing the Text
Ask and Answer Questions
Monitor and Clarify
Make Inferences
Summarize
Compare and Contrast
Sequencing Events
Cause and Effect
Fact and Opinion
Author's Purpose
Main Idea
Problem and Solution
Story Elements
Character Traits
Themes in Literature
The reading anchor charts come in color and black/white. Project and use your favorite overlay app to interact with them.
Save this product for later