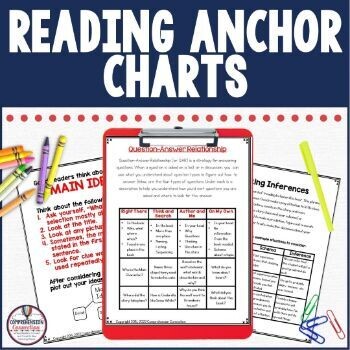 Reading Anchor Charts
SKU 00218
Product Details
Reading Anchor Charts take a long time to make and they are best done with your students. Sometimes it's nice though to have them for reference later. I love projecting these for review lessons, putting them in interactive notebooks, and for helping parents at home.
In my classroom, I have projected as I am modeling a skill. I have also provided my students with printed copies that they can place in their interactive notebooks for selective highlighting, text marking, and for reference later.
With small group instruction, I have clipped the chart to my tabletop "feature board" for reference too. Modeling using think aloud, cutting and pasting in interactive notebooks, sending home to help parents, and/or projecting them for class discussion are all possibilities. If interactive notebooks are not your thing, students can 3 hole punch a hard copy for reference as they're reading or for help when they need a skill clarified. Skills included in this packet are listed below.
making inferences
cause and effect relationships
summarizing
making connections
stop! think! jot!
plot development
questioning
post its for during reading
decoding strategies tricky words
visualizing
question-answer relationship
fact and opinion
main idea
connecting plot, summary, and main idea
fiction and nonfiction features
sequencing
character traits
19 pages total
Pairing these handouts with quality literature to give specific examples in a text is highly recommended.
© 2019 Comprehension Connection by Carla Fedeler All rights reserved.
Save this product for later