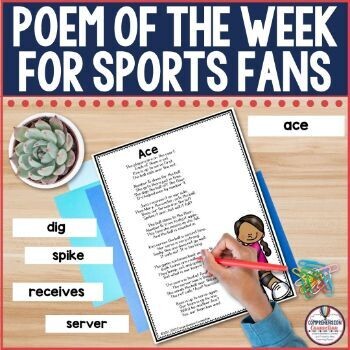 Poem of the Week for Sports Fans, Sports Poetry
SKU 00060
Product Details
Kids LOVE sports, and this Poem of the Week bundle is perfect for your sports fans. The bundle includes 9 original poems thoughtfully written for students in grades 2-4 plus printables to help your students work on comprehension and word study skills.
HOW DOES POEM OF THE WEEK WORK?
Each poetry set is used for a week. It is meant to be about a 10-15 minute lesson to work on fluency. Students practice with repeated readings as well as other text marking tasks. Students can mark phrases, identify words by spelling pattern, find sightwords, etc. There are vocabulary word cards for words that might be tricky as well as a comprehension/word study page and a visualizing page. Tie in with your favorite sports literature or during the season. Check out the preview images for a look at how the poetry sets are organized.
WHAT TITLES ARE INCLUDED IN THIS POEM OF THE WEEK BUNDLE?
Who's Up to Bat?
One Tough Match
Race Day
Football
Basketball Fever
The Dance Recital Disaster
Soccer Season is Here
Ace
Ice Hockey Dreams
WHAT TEACHERS HAVE HAD TO SAY ABOUT MY POETRY BUNDLES:
⭐️⭐️⭐️⭐️⭐️ Kelly C. says, "Can't wait to use this, especially at the time of year when my students are playing certain sports. Thank you for creating such a great resource that the kids can connect too."
⭐️⭐️⭐️⭐️⭐️ Where the Magic Happens Teaching says, "I love how this resource will provide my students not only with background knowledge, but also with fluency, word work, and comprehension activities. Thank you!!"
⭐️⭐️⭐️⭐️⭐️ Courtney E. says, "I loved this poetry packet! The poems are simple and easy to break down and enough fun to keep the children engaged. It is definitely a great introduction for kids into the world of poetry. I am adding a few more questions about feelings/thoughts regarding the poems, but otherwise everything is laid out really well to analyze the poems. My daughter is having a lot of fun with them!!"
⭐️⭐️⭐️⭐️⭐️ Veronica P. says, "I have my kids make a fluency book of poems at their level, I love being able to pick exactly what each kiddo needs.. "
Copyright © Comprehension Connection.
Permission to copy for single classroom use only.
Please purchase additional licenses if you intend to share this product.
Save this product for later