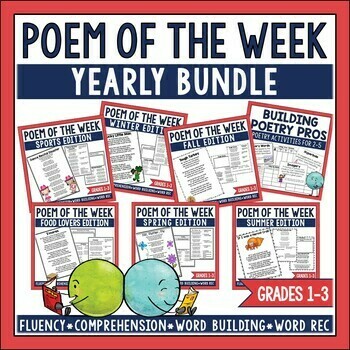 Poem of the Week Yearly Bundle
SKU 00017
Product Details
Using poetry to build reading fluency is a highly effective strategy, and this HUGE bundle helps you do just that all year with the *55* ORIGINAL poetry sets included. Students can build sight vocabulary for reading automaticity, improve phrasing, and simply have fun. Included in this product are the poems with blackline masters and color clip art as well as printables with discussion questions, word study practice, and visualizing using text evidence for each. Additionally, I've added in my Poetry Pros Set for analyzing and teaching poetic devices and for working on comprehension of poetry.
I would suggest that each poem be printed for students to keep in a poetry notebook as you teach, practice reading, and work on supplementary activities. The notebooks keep it all organized and work well for an end of year keepsake. Each poem can also be projected on a Smartboard or Promethean board for text marking and modeling in color. You can glance at the titles for the topics included below.
Resource Contents
✹Summer✹
I Wish I were a Dolphin
If I were a Hermit Crab
Ocean Fun
In Our Garden
Oh Nuts!
Apples
Fall Leaves
Football
Mr. Jack-o-Lantern
✹Fall✹
Pumpkin on the Vine
If I were a Field Mouse
Owl Up in the Tree
Silly Little Puppy
A Scarecrow's Job
Tough Turkey
Gingerbread Tricks
Winter Fun
The Sights and Sounds of Christmas
✹Winter✹
Slip Sliding Away
A Snowman's Dream
Snowflakes Fall
My Best Buddy
Love Bug
Monster Love
Pot O' Gold
Lucky Little Man
In Like a Lamb, Out Like a Lion
✹Spring✹
Flit, Flutter, Fly
Spring's Crazy Weather
We Love Trees
The Happy Gardener
Smores and More
Bees Buzz
Turtle Time
School's Out
Mothers Are Special
A Father's Love
✹Sports✹
Who's Up to Bat?
One Tough Match
Race Day
Football
March Madness
The Dance Recital Disaster
Soccer Season is Here
Ace
✹Food Themed✹
Cooking Up a Great Year FREE
I LOVE Chocolate
Mac and Cheese
S'mores
Make Lemonade
The Soup is On
Fire Up the Grill
Give Me Cake
Ice Cream Time
Eat Your Veggies
PLUS...Building Poetry Pros Teaching Tools for Figurative Language and Comprehension
250+ PAGES IN ALL!
All seven poetry sets can be purchased at a reduced rate through this bundle or individually by set. Thanks for shopping at Comprehension Connection!
Save this product for later