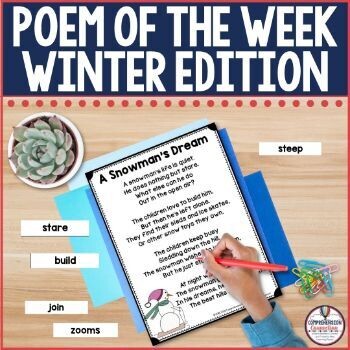 Poem of the Week Winter Edition
SKU 00062
Product Details
Reading fluency is a critical skill for all primary readers. Using a Poem of the Week program is a well establish fluency building strategy. This fun and engaging winter poetry bundle includes 9 ORIGINAL poems with blackline illustrations and color illustrations to use between January and the end of March.
HOW DOES POEM OF THE WEEK WORK?
Each poetry set is used for a week. It is meant to be about a 10-15 minute lesson to work on fluency. Students practice with repeated readings as well as other text marking tasks. Students can mark phrases, identify words by spelling pattern, find sightwords, etc. There are vocabulary word cards for words that might be tricky as well as a comprehension/word study page and a visualizing page.
WHAT TITLES ARE INCLUDED IN THIS WINTER POEM OF THE WEEK BUNDLE?
Slip Sliding Away
A Snowman's Dream
Snowflakes Fall
Best friends
My Monster Friend
Love Bug
Pot of Gold
Lucky Leprechaun
In Like a Lion and Out like a Lamb
46 PAGES IN ALL
WHAT TEACHERS HAVE HAD TO SAY ABOUT THIS UNIT:
⭐️⭐️⭐️⭐️⭐️ Anna Spencer Powell says, "I used this with 3rd graders who are slightly below grade level-I've found it to be a great way to start our small reading group. They love using the poems to practice fluency and reading with a partner or the whole group. "
⭐️⭐️⭐️⭐️⭐️ Inside Out Classroom says, "I am using these to help with fluency and my kids really enjoy it. I don't love teaching poetry, so this makes it easy! "
⭐️⭐️⭐️⭐️⭐️ Jessica W. says, "Loved this collection of fluency poems to use in our poetry notebooks!!"
⭐️⭐️⭐️⭐️⭐️ Jessica Cook says, "This is an awesome resource for my shared reading lessons with my firsties. They love the poems and it helps build their comprehension skills. Thanks! "
Copyright © Comprehension Connection.
Permission to copy for single classroom use only.
Please purchase additional licenses if you intend to share this product.
Save this product for later