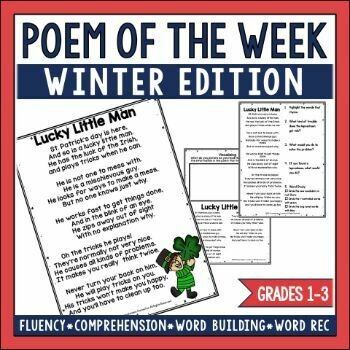 Poem of the Week Winter Edition
SKU 00062
Product Details
Reading fluency is a critical skill for all primary readers. Using a Poem of the Week program is a well establish fluency building strategy. This bundle includes 9 ORIGINAL poems with blackline illustrations and color illustrations for WINTER and the beginning of SPRING as well as two analysis pages that will help your students with word study skills, comprehension of the poem, and specifically visualizing using text details.
The following topics are included:
9. In Like a Lion and Out like a Lamb
Each poem is intended to be used for the week for repeated readings, phrase marking, sightword highlighter hunts, word building activities, and comprehension. View the preview to learn more.
This product is best for grades 2 and 3.
© 2019 Comprehension Connection by Carla Fedeler All rights reserved.
It can be purchased individually or as part of the Poem of the Week Yearly Bundle .
Save this product for later