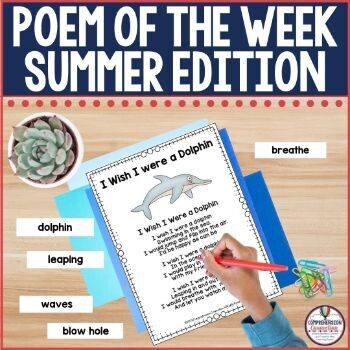 Poem of the Week Summer Edition
SKU 00063
Product Details
Kids love poetry, and using a Poem of the Week program helps students enjoy poems all year long. This Summer to Fall Poetry set Includes 9 original poems in black/white and color as well as activity printables to address comprehension, word study and visualizing.
HOW DO TEACHERS USE POEM OF THE WEEK WITH STUDENTS?
Each poem is intended to be used for the week for repeated readings, phrase marking, sightword highlighter hunts, phonics work, and comprehension. Students can collect the poems for the week to complete an anthology of poems to use for independent reading or to play school with at home. This product is best for grades 2 and 3.
WHAT TITLES OR TOPICS ARE INCLUDED IN YOUR SUMMER POEM OF THE WEEK BUNDLE?
1. Hermit Crabs
2. Dolphins
3. Ocean Fun
4. Gardening/Flowers
5. Apples
6. Nuts/Squirrels
7. Football
8. Pumpkins
9. Fall Leaves
46 PAGES IN ALL
WHAT TEACHERS HAVE HAD TO SAY ABOUT THIS UNIT:
⭐️⭐️⭐️⭐️⭐️ Brittany G. says, "A well put together resource. A great way to work on comprehension and word work. Students found the poems to be very engaging. "
⭐️⭐️⭐️⭐️⭐️Leandra P. says, "Easy to use digitally, engaging and succint "
⭐️⭐️⭐️⭐️⭐️ Columbia E.. says, "Using this for my summer school class. Great fluency practice"
⭐️⭐️⭐️⭐️⭐️ Jacquelyn M. says, "Loaded with helpful poems and corresponding activities. Thank you! "
Copyright © Comprehension Connection.
Permission to copy for single classroom use only.
Please purchase additional licenses if you intend to share this product.
Save this product for later