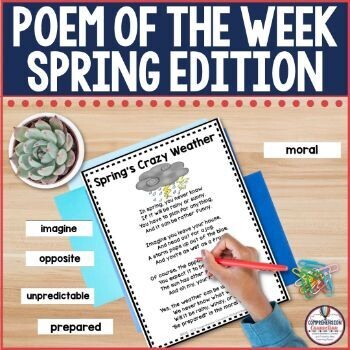 Poem of the Week Spring Edition
SKU 00068
Product Details
Reading fluency is a such an important skill for all primary readers, and a poem of the week works well for building fluency. This spring bundle includes 11 ORIGINAL poems with blackline illustrations and color illustrations for March through June plus vocabulary, comprehension and word study practice for repeated reading opportunities.
HOW DOES POEM OF THE WEEK WORK?
Each poetry set is used for a week. It is meant to be about a 10-15 minute lesson to work on fluency. Students practice with repeated readings as well as other text marking tasks. Students can mark phrases, identify words by spelling pattern, find sightwords, etc. There are vocabulary word cards for words that might be tricky as well as a comprehension/word study page and a visualizing page.
WHAT TITLES ARE INCLUDED IN THIS SPRING POEM OF THE WEEK BUNDLE?
Flit Flutter, Fly (butterfly life cycle)
Spring's Crazy Weather
The Happy Gardener
We Love Trees (Earth Day)
Our Camping Trip
Bees Buzz
Turtle Time
Bloom Where You Are Planted
School's Out!
Mother's Day
Father's Day
WHAT TEACHERS HAVE HAD TO SAY ABOUT OUR POETRY BUNDLES:
⭐️⭐️⭐️⭐️⭐️ Emily M. says, "Thanks so much! I love all of the comprehension and phonics built into the passages."
⭐️⭐️⭐️⭐️⭐️ Natalie Benco says, "This was exceptional. The poems were perfectly appropriate and well written for visualization. I will definitely use this next year. "
⭐️⭐️⭐️⭐️⭐️ Debby Duffy says, "Excellent resource to use during my RTI reading class."
⭐️⭐️⭐️⭐️⭐️ Anna Spencer Powell says, "I used this with 3rd graders who are slightly below grade level-I've found it to be a great way to start our small reading group. They love using the poems to practice fluency and reading with a partner or the whole group."
Copyright © Comprehension Connection.
Permission to copy for single classroom use only.
Please purchase additional licenses if you intend to share this product.
Save this product for later